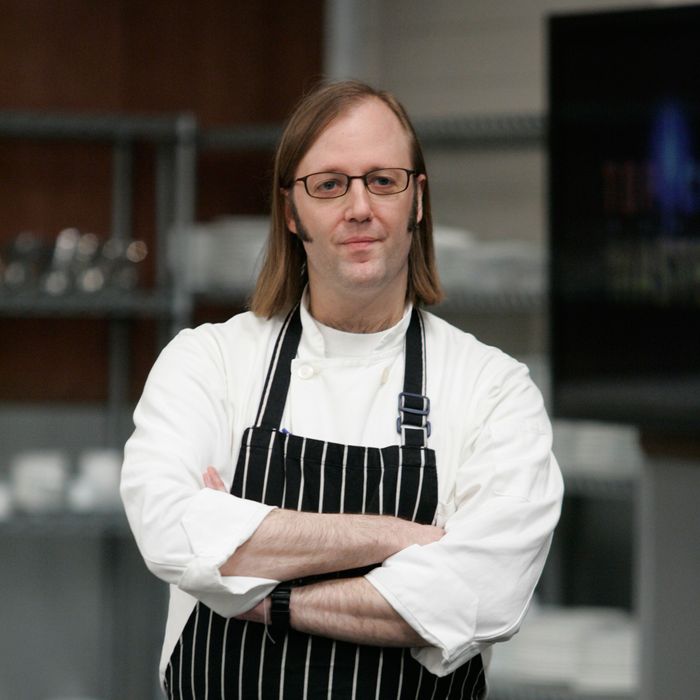 Wylie Dufresne, the man at the top.
Photo: Photo by Kelsey McNeal/NBC/NBCU Photo Bank via Getty Images
On April 9, 2003, Wylie Dufresne opened wd~50, and if you've eaten a meal out in New York City in the decade since, you've felt the restaurant's influence — in a sous-vide slab of beef; in a frosty glass of Cereal Milk; in a cheeky take on eggs Benedict. While the restaurant confounds some customers, it is mythical in food circles, as much for its boundary-pushing food as for its ability to survive in a city gripped with farm-to-table fever and recession-rooted comfort-food cravings. Through it all, Dufresne has mentored a fellowship of curious cooks, bartenders, and pastry savants who helped shape and evolve not just the restaurant, but New York City's entire food landscape.
"I don't think any creative endeavor in all of history has been the work of one person," Dufresne says. "My hope is that when someone talks about what was it like to be at wd~50, they'll say, 'It made me think.'" Talking with people who have gone through Dufresne's kitchen, a common theme emerges: Everyone speaks of Dufresne's insistence that each cook contribute and execute their own ideas. "There are a lot of restaurants where you can go work and get by without paying attention too desperately," Dufresne says of his approach. "But I was never looking for robots and automatons."
 
On April 9 of this year, he'll get the band back together at the restaurant, with a tenth anniversary dinner prepared by some of wd~50's most prominent alumni — an influential crew that includes cult bakers (Christina Tosi), Mexican food pioneers (Alex Stupak), red sauce slingers (Mario Carbone), and dive bar bosses (Sam Mason).
 
A restaurant goes through a lot of people after a decade in business — especially a place like wd~50, where young cooks are clamoring to get in — but in honor of the occasion and the anniversary, Grub Street got in touch with many of the people who made the restaurant what it is today.
Click below to see the full wd~50 family tree.