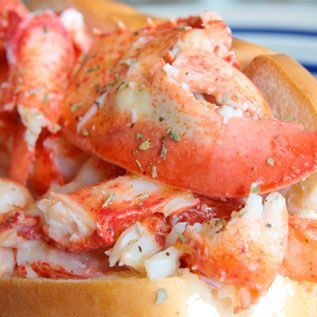 Luke's Lobster will be there.
Photo: Courtesy of Hester Street Fair
Tomorrow's the opening day of Hester Street Fair, and we've got the complete list of vendors and their accompanying menus. The fair goes from 10 a.m. to 6 p.m. on the corner of Hester and Essex Streets, and it will continue every Saturday through September 26. Get excited about Mimi and Coco teriyaki balls, New Orleans-style sno-balls from Imperial Woodpecker, and Oaxaca Tacos. You should definitely pack Tums.
Luke's Lobster
Lobster Roll: $15, $8 half
Crab Roll: $11 whole, $6 half
Shrimp Roll - $8 whole, $5 half
Kettle Potato Chips: $1
Maine Root Soda: $2
Little Muenster
Classic grilled cheese: $6
Roasted butternut squash puree, asiago: $8
Gruyere, prosciutto, membrillo: $8.75
Sautéed spinace & artichoke, asiago: $8.25
Roast beef, cheddar, branston pickled vegetables: $8.75
Cinnamon sugar apples, calkins creamery havarti: $8
Gruyere, smoked mozzarella, muenster: $8
Khao Man Gai
Thai Street food - Khao Man Gai (chicken slowly poached with garlic and ginger, served with Thai jasmine rice) and Nam Krachiap (a drink made from dried hibiscus flowers)
Oaxaca Tacos
Pork, chicken, fish, potato poblano, and chorizo tacos (all $4)
Chinese Mirch
Chinese food with Indian flavors
Pan-seared momos: chicken/tofu and bok choy buns
Chicken tikka with mint chutney
Mango lassi
Daisy Duke's
Carolina pulled pork
Texas brisket
Macoroni 'n' cheese
Burnt-end beans
Cole slaw
Mimi and Coco
Teriyaki balls: $5 (Juicy shrimp, Country sausage, or Organic Potato)
Sweet Corn and Edamame Salad: $3 (Butter & Sea Salt or Lemon & Chili Pepper)
Special Combo: $7
FOODfreaks Banh Mi
Pork Banh Mi - ground pork, spicy chili glaze: $8
Chicken Banh Mi - roasted chicken thighs, coconut milk red pepper sauce: $8
Tofu Banh Mi - sweet and spicy glaze: $8
Raw Kale Salad - carrot, orange sesame vinaigrette: $4
Root Vegetable Chips: $2
Jessy's Peruvian Pastries
Empanadas: $3 each
Fried Meat Empanadas: Beef, Chicken
Baked Vegetarian: Black Beans and Spinach & Cheese
Baked Vegan Empanadas: Chorizo & Potatoes and Chick Pea & Cauliflower Curry
Alfajores: 3 for $5 or $20 box of 12: Classic, Coconut, Nutella, and Rum
Drinks $4
Cold: Mango and Passion Fruit Juice
Hot: Emoliente - Peruvian Drink made of different herbs
Deviant Chef
Burgers & Sammies: $6
Umami Burger: 100 percent organic grass-fed beef mixed with miso, soy, and scallions
Schezwan Mabo Burger: Berkshire Pork mixed with black beans, Gochujang, and scallions Tsukune Burger: Free-range chicken mixed with onions and sweet corn
Tori kara Burger: Free-range chicken mixed with scallions, Gochujang , and red miso Mushroom Sammie: Grilled portobello filled with a medley of sauteed mushrooms
Short Rib Sammie: 16-hour-braised Korean spiced short ribs
Fried Risotto Balls: 3 for 6$ -short rib and kimchi; rock shrimp and sweet corn; medley of wild mushrooms
Sides: Rock shrimp tempura, plantain chips, sweet potato fries, beet fries, lotus root chips, Brussels sprouts
Plus ten sauces and 15 different toppings
Imperial Woodpecker
New Orleans style sno-ball flavors rotate weekly, and include:
Meyer Lemon and Basil Cucumber Melon Blueberry
Mango Mint
Chicory Coffee Cardamom Watermelon
Lemon Beet Ginger Plum Vanilla
Orange Blossom Blackberry
Lime
S'amore Gourmet S'mores
The Classic: honey, vanilla, milk chocolate
The Tom: salted chocolate, almond, dark chocolate
The Hirschy: honey, vanilla, peanut butter and milk chocolate The Donald: honey, maple, dark chocolate
The Nora: salted chocolate, vanilla, nutella spread
Your name here: Build your own
$3.50/s'more
To go:
Chocolate dipped marshmallows: $5
Chocolate dipped grahams: $5
Mini s'mores: $4
Macaron Parlour
All macarons: $2.50 each. Flavors include candied bacon with maple cream cheese, red velvet, Nutella, tiramisu, lemon basil, and bubblegum.
Melt
Ice Cream Sandwich Flavors ($4 each):
Classic: chocolate chip walnut cookies with vanilla ice cream
Lovelet: red velvet meltcakes with cream cheese ice cream
Thick Mint: crackly chocolate cookies with peppermint ice cream
Secret flavor: Hint - something to do with banana pudding
La Newyorkina
Artisanal Mexican paletas (or ice pops): $3-$4; $2 minis
Mango chile
Coco-choco (coconut covered with chocolate)
Virgin mojito
Mexican chocolate
Avocado
Hibiscus
Lizzmonade
Lemonade flavors include:
Coolcumber (Cucumber-Basil)
Strawberry Fire (Strawberry-Jalapeno)
Just Peachy (Peach-Ginger)
Dreamscoops
Sea Salt & Caramel Milk & Cookies Café Au Lait
Dulce de Leche
Tri Star Strawberry
64% Dark Chocolate
Vanilla Bean
Basil Chocolate Chip
Heartbeet Juicery
Cucumber Lemonade
Green Lemonade
Watermelon mint
Pineapple cilantro
Algae
Super Greens
Kitty Lee Thomas Sweets
Crisp Bars: $4 each (a vegan and gluten free take on the rice krispie treat)
PB&J;, Coconut Almond Chocolate, Orange Cayenne Cashew, Cherry Almond, Pumpkin Cranberry, Strawberry Pistachio
Coconut Chocolate Chip Cookies: $3.00 each
Ginger Cookies: $3.00 each
Lemon Bars: $4.00 each
Marshmallows: $2.00 each; variety of flavors: banana fluffernut, snickerdoo, chocolate covered cherry
Butter Crunch Toffee: $14 for 8 oz.
Heart of Tea
Bottled iced tea:
Heart of Tea "Peach" flavor, 14-ounce size: $2.49 bottle
Heart of Tea "Pomegranate Orange" flavor, 14-ounce size: $2.49 bottle
Culerie
Olive oils priced from $20-$25; varying flavors