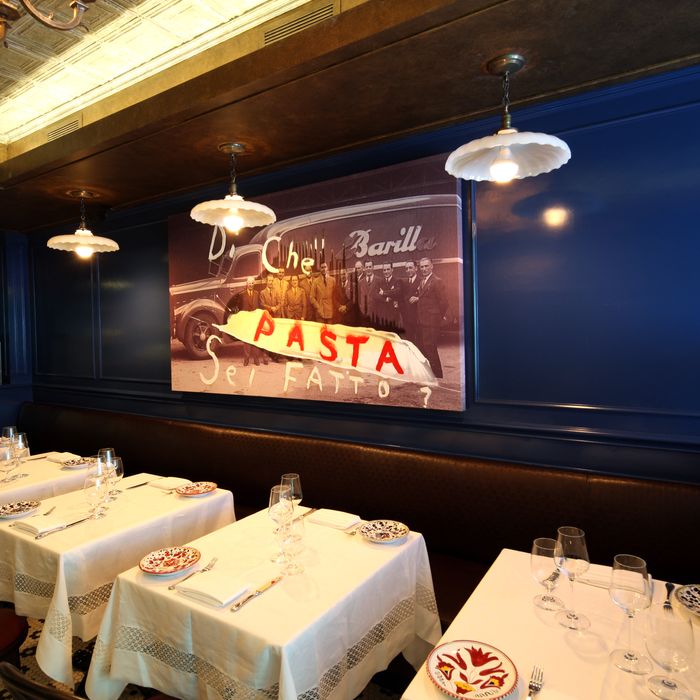 Five stars for Carbone.
Photo: Melissa Hom
This week, Adam Platt filed a twofer on Harlow and Bill's Food and Drink. The former earned one star and served a noteworthy ceviche and seafood pie, while the latter — in the former home of Bill's Gay Nineties — garnered no stars. Find out how the other critics fared this week after the jump.
Pete Wells reviewed Manzanilla, Dani García's first restaurant outside of Spain. Wells was impressed with the "welcome takes on Spanish tradition," and picked out the tortilla gaditana, the cuttlefish croquettes, and tomato tartare as three of his favorites. The top loin of sweet Ibérico pork was sliced like steak and marinated in sake, miring, and miso, while the Ibérico charcuterie plate, Wells said, "is a joy." But he found many dishes were "not in the same league," though desserts like the Marbella's Full Moon — "a white chocolate shell filled with white chocolate mousse and a yolk-colored citrus jelly" — were "visual gems." One star.
After five years as Time Out's restaurant reviewer, Jay Cheshes filed his last review this week. At Carbone, Mario Carbone and Rich Torrisi's attempt at an Italian-American old school supper club, he found the Caesar salad to be a "table side masterpiece." Large portions of antipasti featured foie gras, fresh mozzarella, and sea urchin, and pastas are "across-the-board rich and intense." The veal Parmesan, "a pitch-perfect mix of tender meat and crispy crust," was almost too big for its plate. Notably, Cheshes has only doled out five stars to eight restaurants during his tenure. This was one of them. Five stars.
Tejal Rao visited Pearl & Ash, finding that the food haunted her long after her meals there. A hanger steak tartare is "rich and silky" and other dishes were more delicate than "aggressive, gut-busting, über-fatty" dishes from restaurants of late. Skate is a "standout" with cauliflower puree and "ringlets" of leek. The restaurant only offers two simples desserts, but she deemed them sweet endings.
Robert Sietsema visited seafood shack Kittery in Carroll Gardens. "Not everything is great at Kittery, but the things that matter are," he declared. These dishes include a lobster roll served with homemade potato chips, stuffed clams with fennel-flavored Italian sausage, and a fried clam roll. Skip the grilled half-chicken and lobster stew, he advised.
Ryan Sutton checked out Jean-Georges Vongerichten's Perry St., which has only recently reopened post-Hurricane Sandy. The restaurant still serves some of the city's best fried chicken, Sutton discovered. Other dishes, like the rice-cracker-crusted tuna and the pea soup ("pure spring"), excelled, though the wine service disappointed. Two stars.
In lieu of a review, Steve Cuozzo wrote a column at the Post, "Cuozzo to NYC Restaurants: 10 Things I Hate About You." Among his reasons to restaurant bash he included: "marrow madness," "false descriptions," and "cauliflower 'steak.'" And don't even get him started on Gordon Ramsay.
Stan Sagner thinks Argentine restaurant Porteño feels like it has "two separate kitchens or, at least, personalities." One night he loved Ensalada de Calamares Chamuscados, a charred squid salad, but another night it flopped. Roasted chicken with paprika was "unforgivably dry," but a "monstrous pork chop" was "succulent." He was shocked to see the two dishes on the same table. "While a good meal can be had at Porteño, you may have to fight for it," he concluded.
The New Yorker's, Shauna Lyon dined at Gabriel Stulman's Chez Sardine. Like other critics, she found the menu "overwhelmingly rich." The foie gras grilled cheese was "gimmicky," but the cod fritters reminded her of a state fair's "wonderfully chewy beignets." Her favorite dish was cauliflower "magically transformed into a flawless disk of panna cotta." Aside from the oddball pairings, she deemed the classic Japanese dishes "clean and bright."