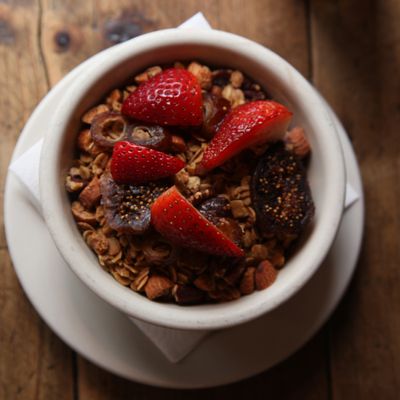 Get some Greek yogurt ready.
Photo: Courtesy of the Smile
Long before the real life-extending benefits of the Mediterranean diet became abundantly clear, Melia Marden of the Smile landed a cookbook deal to share her recipes for Mediterranean home cooking. Her new book, which comes out today, includes recipes for menu items at her Bond Street restaurant, including balsamic-roasted chicken, cous-cous with currants and pistachios, and —crucial here — her wildly popular granola. (The "best fucking granola … the best thing to happen to granola since the invention of oats," per artist Scott Campbell.) "A line cook experimented with a recipe of hers, and then she quit," Marden says about the granola's creation during the restaurant's early days. "I didn't have the recipe, so I improvised with what we had." The result: Something totally unique. "I don't like granola that has too many ingredients because it ends up feeling heavy, so I kept it simple with oats, almonds, and pecans. It's become one of our classic Smile dishes."
Granola
This granola is one of our most popular dishes at the Smile. The trick is to cook it at a low temperature and stir the mixture often so that the oats get evenly crisp and golden. I serve it over Greek yogurt with chopped dried figs and dates, for a hint of North African flavor.
6 cups rolled oats
1 1/2 cups raw almonds, roughly chopped
1 1/2 cups raw pecans, roughly chopped
1/2 cup extra-virgin olive oil
1/2 cup maple syrup
6 tablespoons honey
1/4 cup light brown sugar
1/4 teaspoon kosher salt
Plain Greek yogurt or milk, for serving
Chopped dried dates, for topping
Chopped dried figs, for topping
Fresh berries, for topping
1. Preheat the oven to 250°F (120°C). Line two baking sheets with parchment paper.
2. In a large bowl, combine the oats, nuts, oil, maple syrup, honey, brown sugar, and salt and mix well.
3. Spread the mixture onto the prepared baking sheets in as even a layer as possible.
4. Bake for 30 minutes, then stir very well. Continue to bake, stirring every 30 minutes, until golden brown and slightly crisp, about 2 hours total.
5. Let cool completely; the oats should feel completely dry and crisp. Transfer to an airtight container and store in a cool, dry place.
6. Serve over Greek yogurt or with milk. Top with dates, figs, and fresh berries. Makes about 10 cups.