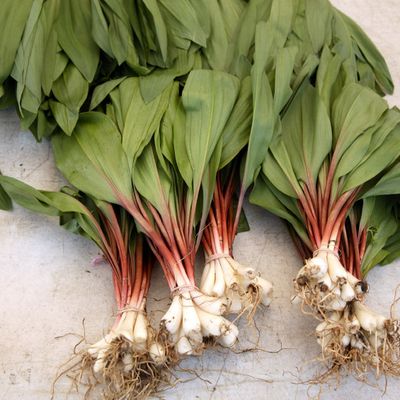 Some call ramps friends; others do not. This is their story.
Photo: iStockphoto
After a long, cold winter in New York City, when the supply of local produce is at a minimum, the first greens of spring are a welcome sign. But among the first things to pop out of the ground are ramps, as divisive an ingredient as you'll find: Some people go crazy for the little wild onions, driving demand (and prices) up. Others rail against the frenzy. How did we even get to a point where something as seemingly piffling as ramps can cause such an uproar? Here now, the complete history of how it all went down.
Before 1900


Ramps thrive along the eastern seaboard, on hillsides and forest floors from Quebec to Georgia. Cherokee Indians ate ramps. Slaves ate ramps. Poor people with no other food ate ramps.
1920


The springtime appearance of ramps is considered a tonic, and ramp leaves are used as a folk remedy throughout the Appalachian region. The mineral-rich leaves are thought to cleanse the blood. Charles F. Saunders's Useful Wild Plants of the United States and Canada is published, and rightfully identifies ramps as a member of the lily family. More important, it identifies them as food, "recommended by those who have tried it for the sweetness and flavor of its young bulbs."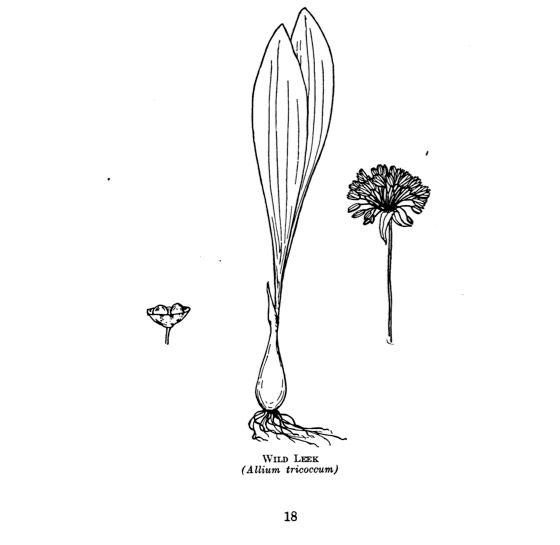 This is how a lot of people saw ramps for the very first time.Photo: Useful Wild Plants

1930


Bato Crites, the sixteenth of nineteen children from a West Virginia family, becomes known as the "King of Ramps" in Richwood and beyond. Crites reportedly could find ramps faster than any other person in town and would collect them, hundreds of pounds at a time.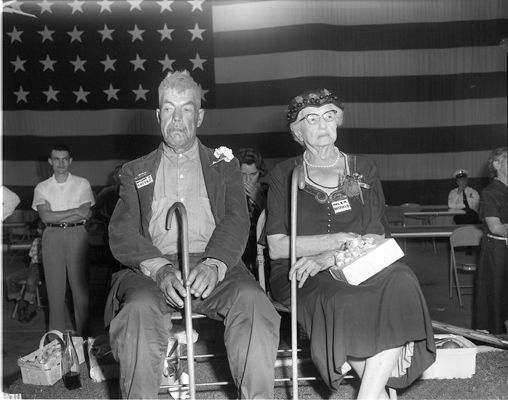 Bato Crites (left, 1888-1960), wild leek baller, changed the ramp game forever.Photo: Richwood News Leader

Richwood still celebrates its legacy of ramps each year with its Feast of the Ramson, now in its 75th year, where hundreds come out to eat thousands of pounds of ramps that have been cleaned and sautéed in bacon grease, served with ham, brown beans, and cornbread.
1942


Aaron Copeland starts to write "Appalachian Spring." The composer later says, "I gave voice to that region without knowing I was giving voice to it," adding that dancer and choreographer Martha Graham danced in a way that evoked Appalachia. The significance of the ballet, which premieres two years later, is that of a cultural shift. The pair gives a strong and indelible voice to ramps by association.
1974


Ramp recipes begin to appear in cookbooks, like this one taken from Louise and Bil Dwyer's Southern Appalachia Mountain Cookin.'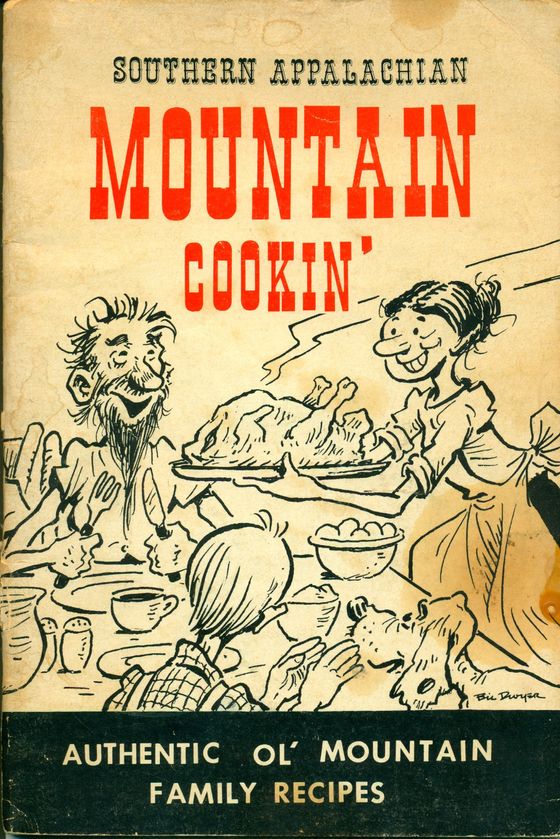 Ramp lore and recipes.Photo: Courtesy of Hugh Merwin

Here's a recipe:
Fried Ramps:
By comparison, the odor of ramps makes garlic smell like Chanel No. 5. After one whiff of ramps, you'll either love them, or light out for the flatlands, Parboil ramps 3 min., drain, and boil innew water until tender. Drain and fry in butter or bacon drippings. Add slightly beaten eggs, or potatoes, salt and pepper to taste.
September, 1982


Though they've been the focus of several annual festivals in the South and throughout the Appalachian mountains, ramps up to this point have eluded tony New York restaurant culture — until September of this year, when Mimi Sheraton writes an article about John McMath, a former advertising executive who quit to start an organic farm in the Finger Lakes region. There, he gathers ramps, which he includes in future business plans. "We are hoping to license the name and concept for nature parks elsewhere in the country," he says.
April 1983


Recipes for a ramp tart and cheddar-enriched ramps grits soufflé appear in Gourmet.
March 1990


Writing in the Times, Molly O'Neill notices industrial farming and agricultural techniques increasingly devalue the meaning of seasonal food. You may be able to get vine-ripe tomatoes in January, but not ramps, which are "hostage to nature's clock." It's the beginning of ramps' limited-time-only hype.
1992


Ever faithful to seasonal products, David and Karen Waltuck serve cream or ramp soup at Chanterelle, stuff fish with ramps, and pickle the bulbs.
1995


Dark days: The sale and possession of ramps is outlawed in Quebec.
1996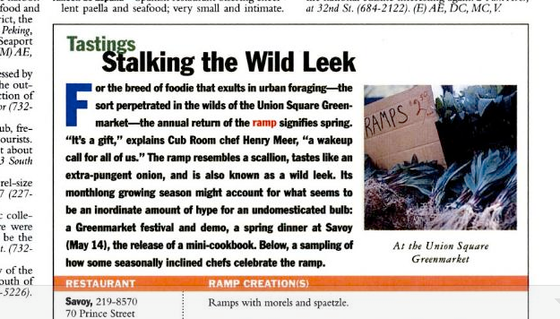 Ramps are a "gift."Photo: courtesy of New York Magazine

The year ramps went big: New York singles out a handful of excellent ramp dishes, among them ramps vinaigrette at Capsouto Freres; ramps with morels and spaetzle at Peter Hoffman's Savoy; spaghetti with ramps and pecorino at Mario Batali's Pó; and ramps galore at Gramercy Tavern, where Tom Colicchio served sautéed sweetbreads with morels and ramps, as well as cod with fondue of ramps and bacon. Colicchio blanches ramps and throws them into spring ragoût with bone marrow rounds and thinly sliced rhubarb and uses them as bedding for braised lamb.
Just a couple of weeks later, Ruth Reichl goes to bat for the spring greens in the New York Times, singling them out in her reviews of Butterfield 81 and then Fifty-Seven Fifty-Seven. She calls them "pungent wild leeks" because ramps are still an obscure ingredient.
1997
Ruth Reichl: Ramp-champion!Photo: Melissa Hom

Reichl becomes a full-fledged ramp evangelist, singing their praises at Monkey Bar and shouting out allium tricoccum in several more reviews over the next two years. Ramp recipes appear in Food & Wine and Saveur.
More important, Dr. Phil Whanger runs with a study demonstrating that selenium-enriched garlic decreases tumors in rats and produces a bumper crop of selenium-enriched ramps, which results in 43 percent less tumor incidence. Conclusion: Ramps ramped up with selenium have potentially effective anti-cancer powers.
1998


Ramps flood the Greenmarket: Kurt Gutenbrunner is the new chef at Monkey Bar, and he likes ramps, too. Dennis Foy uses them at Eq, and they show up at 27 Standard.
2003


A website is established for Richwood, West Virginia, which is, owing to its alchemical botanic funk, known as the "Ramp Capital of the World." The intense and antic page about ramps and local history declares, "Wild ramps are one of the easiest wild edibles to eat in the hottest New York City restaurants."
2004


Ramp foraging is banned throughout the Great Smoky Mountains National Park in North Carolina and Tennessee.
2005


King of Stink, a documentary about ramps and southern ramp festivals, airs on PBS once and only once, because of its ramps porn. To this day, no traces of it appear online.
2007



2007



Fever pitch ramps.Photo: Zoe Singer

Chefs have sourced ramps from Union Square Greenmarket purveyor Rick Bishop for many years, but it's around this time that home cooks start turning out in droves looking for the Mountain Sweet Berry Farm sign, to buy ramps for $2.50 a bunch. Sometimes customers argue over the last few bunches.
March to April 2010


Ramp yields are high at the Union Square Greenmarket, which also means the ramp backlash is in full bloom. Writing in Time, Josh Ozersky asserts that owing to their ineffable risk of gentrification, ramps are in danger of becoming the "new arugula".
April, 2011


Big trouble in ramp-ville: "I think we're having an impact on ramp populations," said James Chamberlain, a research scientist with the United States Forest Service, who reports that ramp patches have been ravished by unscrupulous foragers. "I would say that we're overharvesting the plants."
A new hope: The Cherokee people, who have been harvesting ramps for a long time, demonstrate it can be done sustainably.
April 2012


Using principles gleaned from esteemed food scientist Harold McGee, our own Rob Patronite and Robin Raisfed come through with crucial information on how to defeat ramp breath. (Spoiler: Eating an apple or chewing parsley will mitigate the worst of it.)
March 2013


In order to get a jump on the frenzied season, some purveyors turn to ramps from warmer climates. As restaurants in New York start getting their first shipments, local ramps are just sprouting through the ground, which is still thawing.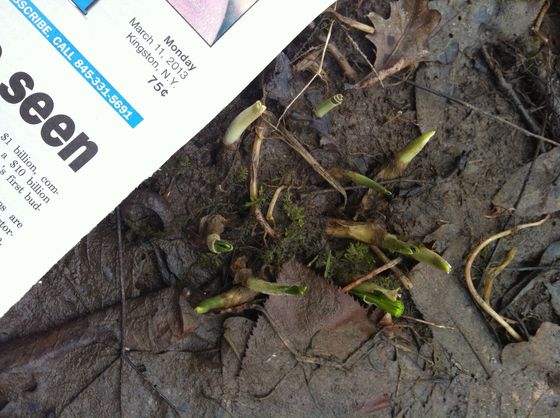 March 2013


In order to get a jump on the frenzied season, some purveyors turn to ramps from warmer climates. As restaurants in New York start getting their first shipments, local ramps are just sprouting through the ground, which is still thawing.






BABY RAMPS on March 11 in upstate New York.Photo: Jake Lyons

April 2013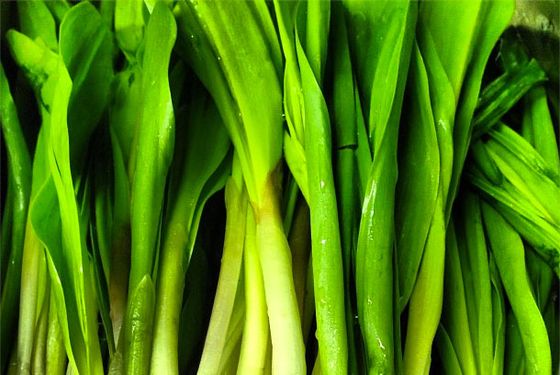 April 2013



This year's crop.Photo: Courtesy Empellon.

Ramps are a fact of life. "I've been selling ramps for my various companies for seventeen years now," says specialty food purveyor John Magazino of Baldor. Magazino tells Grub Street that over the eight-week season, the company's buyers source between 11,000 and 15,000 pounds of ramps, from New York, West Virginia, and Michigan, in order of descending quantities, weather depending.
"In the mid- to late-nineties, we sold them for $2 a pound. This year we started at $17 per pound," says Magazino. "They may be more popular than ever — there are some bona fide ramp freaks out there."
Last week, Momofuku's official Twitter feed sent this out:
ramps are back and in full effect for lunch + dinner at ssäm bar. ramp brine martini on tonight's menu… instagram.com/p/YN6XYyCrfj/— momofuku (@momofuku) April 17, 2013