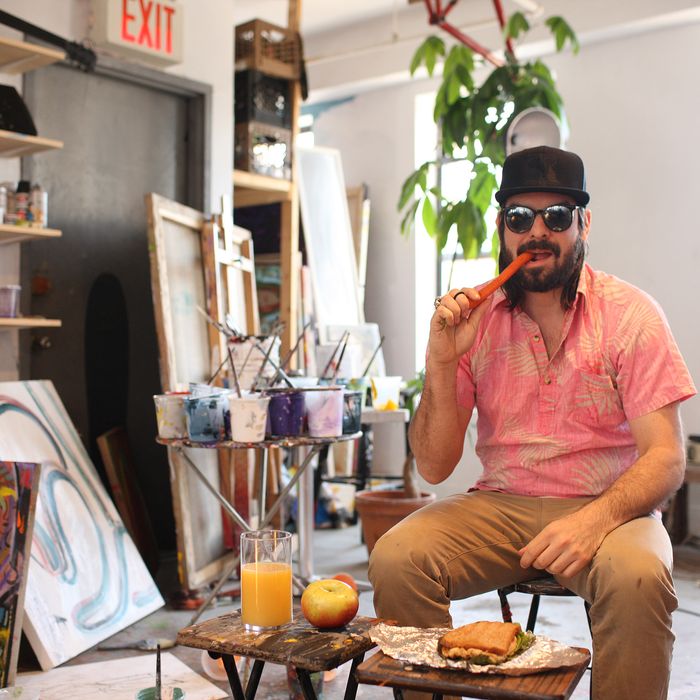 Sweeney, in his studio with part of his typical breakfast.
Photo: Melissa Hom
Spencer Sweeney is a downtown Renaissance man: He's an artist, D.J., and nightclub impresario (he co-owns Santos Party House). "The diversity and the close proximity of the cultures downtown, the energy that comes about through that," he says. "I'm kind of addicted to it." At the moment, he's working on a new series of paintings for the Frieze Art Fair, where he'll be exhibiting with fellow artists from Gavin Brown's enterprise. Some days, he says, he does nothing but paint and eat — and his diet is a mixture of starving-artist austerity (raw fennel, cans of sardines), scenester decadence (a house party catered by London's St. John), and, of course, burger runs with Andrew W.K. Read it all in this week's Grub Street Diet.
Friday, April 19


Usually I start the day with an apple, a Fuji apple. And it does seem to help keep the doctor away. Since I've been doing it, I think I only had one cold all through the winter.
Over the course of the morning, I started out with some green tea and then I bumped it up to coffee a little bit later.
Then I went to aikido.
After that, I came home and I painted a little. I ate two carrots and a can of sardines.
My friend Elizabeth Peyton had an opening at Michael Werner, so I went up to that. The after-party was at La Grenouille. It's a cool, old-school French restaurant. They're known for their adventurous floral arrangements. It was a big hangout for Truman Capote and Jackie O and lots of fashion people back in the day. It was my first time there.
There were some oysters going around. The main course was bass with a caviar Champagne sauce, which was really good. And I had a great field greens salad with baby arugula, radishes, pea shoots, and tarragon.
Saturday, April 20


The next day, for a combined breakfast and lunch, I had a bialy from Russ and Daughters with horseradish, cream cheese, onion, tomato, wild Baltic salmon. And a sour pickle and a carrot.
That night, I went to my friend Jonathan Kaplan's birthday party. For his party, he had these two chefs cooking for him, Fergus and Margo from St. John in London. They're all good friends. As far as I recall, there was a risotto, and lobster salad, and there were some sautéed mushrooms. It was kind of late, so I didn't eat much, but everything was really, really good. And then they had three cakes for dessert: a green-tea mille-crêpes cake, a Lady Baltimore cake, and a chocolate one.
I got home from the party around 4 a.m., and I realized that I forgot my keys, so I had no way to get into the building. On the second floor of my building is a Chinatown senior citizens' community center, which opens at six, so that was my ticket back in. While I waited, I went for a walk through Chinatown, all the way over to the west side and back.
On the way back, the Chinese bakeries were just starting to open, so I stopped in one of those and I had a steamed bun with Chinese sausage inside it and a small coffee with milk and one sugar. And then I went to the park on Canal and Chrystie, and I watched the people doing tai chi. It was getting around 6 a.m. then, and the cherry blossoms were falling in kind of a diagonal direction, and I was just watching the people; it was really kind of special. A special New York moment.
Sunday, April 21


I slept all day, because I was out until 6:30 in the morning, didn't wake up until dinner.
I met up with my friend Andrew W.K., and we went to Big Nick's Burger Joint, which is on 77th and Broadway. This is one of the most amazing diner-style restaurants in the city. They have a really extensive menu; I mean, the menu is twenty pages long or something. It's kind of similar to Shopsin's, where they have an impossible number of entries on the menu relative to the size of the kitchen, and you're just like, How the hell do they do this? But they do it, and they do it really well.
Andrew and I were there with his wife Cherie Lily and our friend Peter, and we all shared a bunch of stuff. We started out by all sharing a slice of pepperoni pizza; they brought it out and we cut it up. And then we had small house salads. Cherie and I split a plate of franks and beans — the best I've ever had in my life. The first time I went with Andrew, I just ordered them on a whim, and I was just blown away: the balance of the brown sugar and the salty hot dogs, and there's a smoky flavor going on, too. We also ordered jalapeños on the side. And then I had half a port-wine cheeseburger, which was great, and a couple of French fries. Andrew and I had large beers. Then it was back to bed.
Monday, April 22


Started again with a Fuji apple, green tea, and a carrot. Since the all-nighter, I was painting the whole time — I'm on this deadline for the Frieze Art Fair. But I took a break from painting to have lunch: a can of sardines, some roasted Brussels sprouts from Ni Japanese Deli in the Essex Street market, and a can of V8. Lentil soup, too, from Bereket, with pita bread that they throw on the grill. When I went to get the lentil soup, I also picked up some baba ghannouj, which I kind of nibbled on throughout the day.
Oh, and I also went to Boubouki in the Essex Street Market, where there's this Greek lady that has all her mother's recipes. She makes the most amazing spinach pies; that's something I'll grab when I'm walking through, and I just inhale that in two seconds, which is why I sometimes forget that it happened.
I picked up a piece of baklava, too, and I noticed that it had more cinnamon than I was used to tasting. I complimented her on it the next day, and she said, You know, I also put it in a little salt, too. I guess it's kind of a counterbalance. I thought about that for a while.
For dinner, I went to this Punjabi place on Houston Street. I had one samosa with chickpeas, a masala tea with one sugar, and then a piece of burfi for dessert. I had some leftover baba ghannouj, too.
Tuesday, April 23


Another apple, carrots, and green tea.
For lunch, I went back to the Essex Street Market; it's across from my studio, so I go there often. There's this one stand, Tra La La Juice Bar, and they have a fish market attached to it called Rainbo. There was a girl in line before me who ordered this juice that smelled really amazing, so I had one of those. I asked the guy what was in it, and there were so many ingredients that I didn't want to make him recite them all. It had parsley and carrot and kale, and it was going to go on and on. So I just told him, It's cool, thanks.


They have a fish sandwich, which is just the perfect sandwich. You can choose your own fish, but I usually just let them pick whatever. It's on wheat bread with a little bit of lettuce and their own dressing. They just put it in a little sandwich press grill. It's so sweet, and it's $4.50.
Tuesday night, I painted and I went to aikido, and on the way back, I stopped at the Downtown Bakery, the Mexican place on First Avenue. The food is really good, and the people are really sweet. I got a beef chimichanga. I remember when I first saw the chimichanga on the menu, and I'd never had one; it was just a word that made me laugh in my youth. The way that they season and cook the beef, it almost ends up having a curry flavor to it, which I wasn't expecting, but it's really delicious. I got a side of jalapeños, and it comes with black beans and rice.
Wednesday, April 24


I started with the apple and green tea situation, and I basically just painted all day.
For lunch, I had half a head of raw fennel and three carrots. I finished off the baba ghannouj, too. I drank a mix of orange juice and grapefruit juice, poured them into the same cup.
For dinner, I went with my friend Korakrit — he's an artist, very talented — to Village Yokocho, which is a yakatori place up on 9th Street in between Second and Third.
What I like to do there is have a pitcher of beer and order the yakatori chicken wings and house salad and a plate of kimchee fried rice. And then we kept ordering other things; we had miso black cod and a deep-fried chicken filet with cheese and a bottle of house hot sake. It's a place I've been going to since I first moved to the city — it's a mainstay.