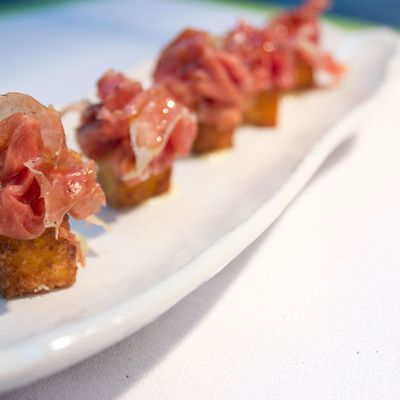 No point starting off with something light at Maysville. Go for the BONY-winning fried grits.
Photo: Rodolfo Carlos/New York Magazine
Whether the menu section lists them as "bites", "snacks," or simply "for the table," you know what these items really are — small things to eat with a drink while you decide what else to order for dinner. But what first seemed like a throwaway menu category intended to inch up your bill has blossomed into a fully realized concept, one that nearly every new restaurant fully embraces. The good news: This age of snack ubiquity means chefs want to stand out by offering better options — and when done right, the small plates will get you primed for the dinner ahead. See what we mean with this list of great pre-meal bites to order at new restaurants around town.
Duck-Liver Toast ($6)
Where to Get It: Parish Hall
The Williamsburg restaurant, which is the big sister to Egg, suggests three kinds of toast to kick off the meal: duck liver with apple and celeriac, smoked trout with citrus mayo, and squash with goat cheese. There are also beef-fat popovers (beet-fat popovers!).
Squid-Ink and Cuttlefish Croquettes ($12)
Where to Get It: Manzanilla
Critics have loved these fried balls, which are a riff on a traditional Spanish cuttlefish stew. Béchamel sauce and citrus aiolis make the dish extra rich.
Olive Fritte ($8)
Where to Get It: Pastai
Eolo chef Melissa Muller Daka is running the ship at this new casual Italian restaurant in Chelsea. One of her pre-starters is fried Castelvetrano olives — stuffed with Pecorino cheese.
Deviled Eggs ($10)
Where to Get It: Cata
As if you didn't know by now, deviled eggs are making a comeback. Each egg served at this under-the-radar Bowery Spanish spot comes topped with gribiche and a fried oyster.
Spiced Chickpeas ($3)
Where to Get It: Pig & Khao
A great snack leaves you wanting more food, not less. Chickpeas won't weigh you down, and these are flavored with garam masala, cumin, coriander, cinnamon, garlic powder, and Thai chili powder.
Mushroom and Lardo Toast ($12)
Where to Get It: Feast
This just-opened East Village restaurant offers a lot of market-driven health food: Beet frites and roasted cauliflower are part of a vegetarian prix-fixe menu. That's all the more reason to start by splitting something more substantial like this toast, which is also topped with chicken liver and gravlax.
Pigs in a Blanket ($10)
Where to Get It: Boulton & Watt
Alder's not the only restaurant in town re-creating the beloved Bar Mitzvah food. This Lower East Side bar-restaurant offers a variation with housemade sausage and curried ketchup.
Kimchi Deviled Eggs ($6)
Where to Get It: Booker and Dax
The bar in back of Ssam only offers snacks. You'll be tempted by Momofuku classics like steamed pork-and-shitake buns, but it's the deviled eggs with tobiko and chive that are the must-order item. Plus: This won't spoil your dinner.
Cassava Chips ($8)
Where to Get It: Montmartre
It seems like a strange way to start a French meal, but these light, crunchy, housemade chips are the perfect vehicles for the creamy eggplant caponata and cashew dip. The snack menu also includes chicken liver with miso, as well as radishes with trout roe.
Housemade Refrigerator Pickles With Butter-Roasted Peanuts ($5)
Where to Get It: Cherrywood Kitchen
Never underestimate the power of a good pickle. Especially when you're going to follow it up with Cherrywood's burger, which comes with two dry-aged patties, cheddar, and "bacon bread crumbs."
Pork and Unagi Hand Roll ($7)
Where to Get It: Chez Sardine
You can opt for standard edamame here, but it's wiser to dive into the meal with a surf-and-turf piece of sushi. The creamy eel pairs nicely with the braised pork, and avocado and spicy mayo take it over the top.
Crispy Grits ($9)
Where to Get It: Maysville
This combination of deep-fried grits, country ham, and bourbon aioli is so good that it won a Best of New York award — a well-deserved one at that.
Eggs and Butter ($6)
Where to Get It: Dear Bushwick
Soft-boiled eggs are smoked and served with horseradish butter and green-peppercorn salt. The yolks achieve that perfect gooey-but-not-runny balance, which isn't easy to accomplish.
Crispy Pig's Ears ($7)
Where to Get It: Salvation Taco
The Underground Gourmet calls the fried pig's ears at April Bloomfield's Murray Hill taco spot "terrific" and "an aggressively seasoned study in crispy-chewy textural contrasts that sticks to your molars like saltwater taffy."
Piri Piri Shrimp ($7)
Where to Get It: Louro
Don't be deceived by this Pete Wells–approved dish's innocent appearance; it's super spicy and coated in pepper. David Santos also offers heftier items like seafood fritters, tempura piquillos, and lamb-neck rilette as "Bites."