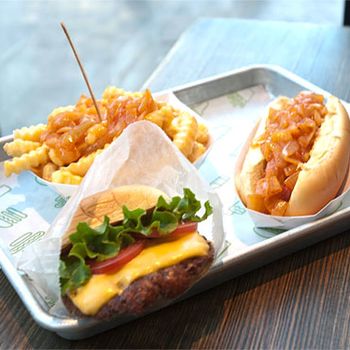 A Shake Shack spread.
Photo: Jed Egan
Danny Meyer has not had great things to say about Vegas (a city "built upon so much transiency") in the past, but said he'd consider opening a Shake Shack there. Lo and behold: Today Meyer's New York burger chain with perpetual lines and an enormous fan base announced via a press release that Shake Shack is on its way to Las Vegas. Planned for a brand-new $100 million shopping- and dining-inundated plaza straddling Sin City's MGM and New York-New York properties, Shake Shack will join a location of Umami Burger's sister pizza place, 800 Degrees, and an ambitious Hershey's Chocolate shop.
The news crushes simmering rumors that Union Square Hospitality Group, which runs the Shake Shack empire, was opening a Vegas location next to Harrah's.
With Shake Shack now operating in six states and several foreign countries, it feels like only a matter of time before the brand comes to challenge In-N-Out on its home turf. And although this is an obvious booster of New York's contemporary culture way out in the Nevada desert, it sadly may come at the expense of the casino's fake Brooklyn Bridge, which will be "toned down" for greater pedestrian access.
Shake Shack [Official site via Eater]