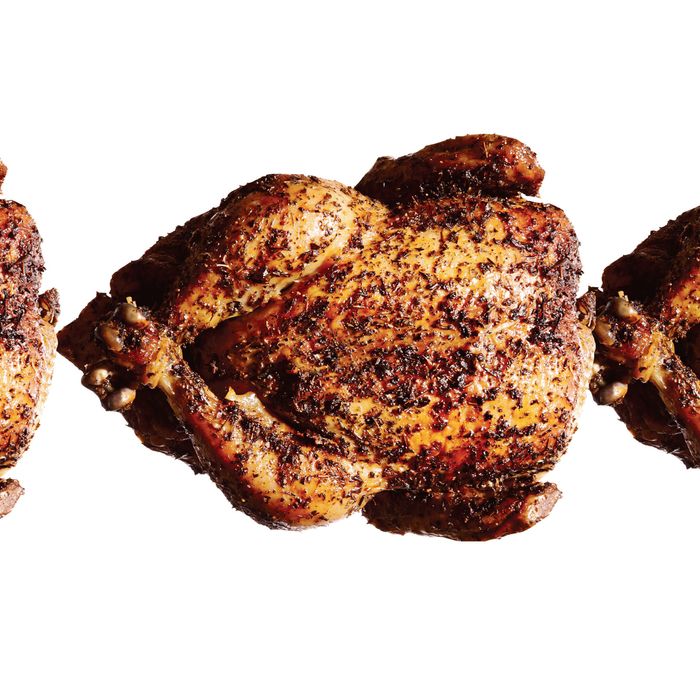 Dickson's Farmstand Meats' rotisserie chicken.
Photo: Victor Prado/New York Magazine
For chicken connoisseurs, these are exciting times. First there was the southern-fried craze of the aughts, then came the NoMad's great Gallic gift to the poultry-loving populace—a $79 clucker effectively basted with foie gras and black truffles and presented tableside for inspection before being shuttled back to the kitchen for carving. Now the rotisserie chicken—that familiar totem of supermarket deli cases and countless takeout chains—has gained new prestige, showing up on the slowly spinning spits of stylish new restaurants and soigné food markets all over town. (Last summer, Daniel Boulud's longtime girl Friday, Georgette Farkas, stepped down from her prominent post to open Rotisserie Georgette this fall.) This development should come as no surprise to fans of the cooking technique (and they are legion, from card-carrying Costco members to devotees of the Peruvian and Dominican chickens that have long dominated the category, and even to those clinging to cherished memories of bygone birds from spit masters like El Pollo and D'Artagnan). After all, the rotisserie may be the ideal apparatus for solving the anatomical puzzle of the chicken, with its vexingly hard-to-synchronize white and dark meat. And let's not underestimate the visual appeal of the setup, a drool-inducing sight guaranteed to spark a primitive excitement in any sentient carnivore. One defining aspect of today's trend is a welcome attempt to source higher-quality specimens—less-processed, free-roaming, grass-­gobbling, dust-bathing, well-contented chickens—which tend to taste a lot better than the mass-market variety. To find the best, we sampled a dozen and a half newish arrivals, from Lafayette's Lancaster County, Pennsylvania, bird to Pok Pok Ny's poussin, and rated them on appearance, aroma, flavor, and texture. Here, our top eight.
Key:
4/4 = Extraordinary
3/4 = Excellent
2/4 = Very Good
1/4 = Good
Dickson's Farmstand Meats
A remarkably fresh, highly seasoned three-pounder with a strong chicken flavor and a superb saltiness, plus the juiciest breast meat we tried. If not for a less-than-ideal crispness (most likely the result of undue steaming in the thermal takeout bag), the score would be even higher.
$9 for a half chicken; $16 for a whole. At Chelsea Market, 75 Ninth Ave., at 15th St.; 212-242-2630.
Rating: 3.5
Eataly
Great uniform color and a delicately crisp skin distinguish the chicken at Eataly's bustling Rosticceria station. The dark meat is super-moist and delicious, and the breast adequately juicy—all in all, it's a fragrant, well-seasoned bird with a big, round flavor.
$5.80 per pound. 200 Fifth Ave., at 23rd St.; 646-398-5100.
Rating: 3

Lafayette
It's nearly impossible to be seated within eyeshot of the deluxe-model Rotisol rotisserie and not fall prey to Andrew Carmellini's Pavlovian schemes by ordering the chicken for two. Not that you'll regret it. The minimally seasoned meat is perfectly tender, with a proper hint of chew, and the expertly browned skin as crisp as you could wish for.
$44, including roasted potatoes; dine-in only. 380 Lafayette St., at Great Jones St.; 212-533-3000.
Rating: 3
Alison Eighteen
Chef Roxanne Spruance brines her chickens for twelve hours, loosens their skins and airs them out in the walk-in for another dozen, then shoves them unadorned onto the Rotisol. The result is a plump and juicy bird with a pure, unadulterated chicken flavor and nice crispness.
$32 for a whole chicken to go with two sides, bread, and dessert; place same-day orders by noon. 15 W. 18th St., nr. Fifth Ave.; 212-366-1818.
Rating: 3
Pok Pok Ny
They roast these fish-sauced, lemongrass-stuffed baby chickens gyro-style on vertical skewers ten at a time over Malaysian charcoal. If there's a rotisserie poussin more exotically delicious than the one at Pok Pok Ny, we do not know it.
$11.95 for a half chicken; $19.95 for a whole; dine-in only. 127 Columbia St., nr. Kane St., Columbia Street Waterfront District; 718-923-9322.
Rating: 3

Glady's
The key to this succulent hen isn't the eight-hour saltwater plunge that plumps up the meat like a Ball Park frank, or the subsequent 48-hour air bath that ensures a crisp skin, or even the pre-roast butter massage, which, needless to say, adds flavor. No, it's twirling the thing over a hardwood fire, imparting a subtle smokiness that makes all the difference.
$20 for a half chicken, plus a seasonal side; dine-in only. 788 Franklin Ave., at Lincoln Pl., Crown Heights; 718-622-0249.
Rating: 3
Fleisher's
Aggressively seasoned with garlic, sage, salt, pepper, onion powder, and paprika, the Fleisher's model is practically Cajun in its views regarding the spice rack. Even so, the flavor is well balanced, the breast meat as juicy as an August peach, and the drumsticks and thighs pleasantly firm.
$18 for a whole chicken. 192 Fifth Ave., nr. Berkeley Pl., Park Slope; 718-398-6666.
Rating: 2.5
Lincoln Station
Bar Corvo's comfort-food spinoff makes its organic birds available after 2 p.m.; you'll find them in the display case, trussed and golden with a dash of smoked paprika and possessing an overtly salty flavor. What the skin lacks in crispness, the meat makes up for in juiciness. The upshot: a very chickeny chicken of the deli-rotisserie old school.
$4.49 per pound. 409 Lincoln Pl., nr. Washington Ave., Crown Heights; 718-399-2211.
Rating: 2.5

*This article originally appeared in the May 6, 2013 issue of New York Magazine.