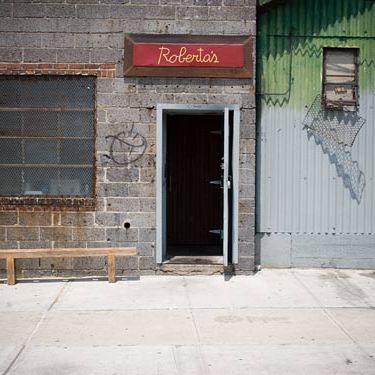 Bushwick keeps on taking it.
Photo: Gavin Thomas
So, acclaimed Bushwick restaurant Roberta's posted a Craigslist ad six months ago looking for a few good, unpaid interns to come work in its urban garden, which supplies produce for its kitchen. Workers would be compensated only with pizza in exchange for sixteen hours a week and a two-month commitment, during which time they'd be manning the beehives, tending to compost, building planters, maintaining hydroponic systems, and bam! — the implicit heavy lifting and other assorted intimations of labor law violations in the job posting were enough, apparently, to ignite a hipster furor of the first order, not to mention a plague of stenciled font flyers that have gone up in the neighborhood calling out the restaurant.
The flyers, which start off with a cheery "FUCK YOU ROBERTA'S" and promptly moves onto a mini-diatribe that accuses the restaurant of "having already contributed to the damaging gentrification of Bushwick," had Gothamist readers frantically debating the definitions of the Fair Labor Standards Act. Meanwhile, Roberta's spokesperson confirmed the unpaid nature of the internship to DNAinfo, emphasizing its "voluntary" nature and the chance for interns to lead "educational tours" and other community-minded activities.
But here's the thing about being community-minded at a restaurant in Bushwick in 2013: For every Clinton family visit, there's a waitress taking her clothes off in the dining room. As such, Roberta's remains an inventive, unpredictable, and often irksome restaurant, at least to many customers who elect to wait in line for dinner. Its owners have previously run afoul of the law before, but this does not appear to be one of those cases. Restaurants of all kinds enlist volunteer workers for duties, and while it's a stretch to call an urban gardening internship a stage, that's basically what this is. Plenty of two-, three-, and four-star restaurant kitchens routinely take on volunteer labor, sometimes dozens of aspiring cooks at a time, to the point where there's a fair chance that a few of those behind the line, cooking your dinner, aren't actually on the books.
In the case of Roberta's and its critically acclaimed sister restaurant Blanca, both of which use the weird chicories, shoots, and fronds produced on the premises, it really all depends on what you believe restaurants have the power to do. There may be a labor department complaint in its future, but it's also very conceivable that anyone learning how to cultivate puntarelle out by the disused shipping containers on Moore Street will later go on to open some new and interesting place of their own.

Roberta's Pizza Advertises For Unpaid Intern, Upsets Neighborhood [DNAinfo]
Earlier:Waitress at Roberta's Forgets to Wear Clothes, Serves Food