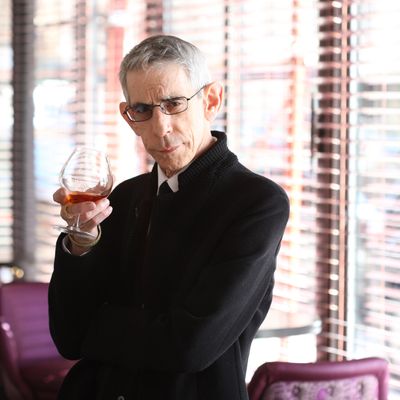 "I have a shot of Armagnac every night."
Photo: Melissa Hom
Law & Order: SVU star Richard Belzer is a New York icon — an Upper West Sider who's also half diehard Francophile. He admits his eating habits are "eclectic and eccentric," full of both Hebrew Nationals and escargots. But after time in the French countryside, he's fallen back into a New York rhythm this week in preparation for his one-man show, Richard Belzer's Rock & Roll and Comedy Extravaganza, happening April 13 at Stage 72. Read all about homemade lamb chops, hot-dog binges, and the world's best-sounding pancakes in this week's Grub Street Diet.
Friday, March 29


I live in France part of the year, so, you know, I'm a food snob. A French person can happily talk about mushrooms for an hour, instead of like, What do you do, and how much money do you make? They don't eat in between meals — and they live to be 90.
Anyway, I was in France. For breakfast, I had one egg, some yogurt, fruit, and a piece of a toasted baguette. I made my own breakfast, even though my wife is exceptional in the kitchen.
I had to go to Paris to spend the night before flying to New York. I ate at La Société on Saint-Germain des Prés. I had escargot, of course. And I had a lamb dish. My dog, Bebe, loves lamb leftovers, so it was mainly for him. Bebe was a stray dog that followed us home six years ago in a little French village. He adopted me and has been with me every day since.
Saturday, March 30


I flew from Paris to New York. Bebe and I had some plane food, watched a movie, and dozed. They get the airplane food in France, so it's not that bad — salmon with morel sauce. Very nice.
Over on Riverside Drive, where I live, I had a Greek yogurt for dinner. Bebe had some chicken and rice. The only time we're separated is when he's at his playgroup.
I have a shot of Armagnac every night because people who live in that region of France have great longevity. Incidentally, women in France live longer than any other country in the world, second to Japan.
Sunday, March 31


Breakfast was a cottage cheese omelette, with rye toast, tomatoes, French fries, and Earl Grey Tea from Big Nick's on 77th Street. Nick works hard and diligently; he's a good man.
I like going there. I must say, one of the delights of acting in New York, and playing a cop for so many years in New York, is that people are really nice. There's nothing like someone smiling and saying, "Hey, Belz." New York knows how to treat celebrities really well. In another town, I'd be eaten alive like in a Tennessee Williams play.
Late lunch: a homemade Buffalo burger, with grilled onion, mustard, ketchup, and mayo. I have a George Foreman grill, baby. Come on.
For dinner, I had a yogurt, toast, and tea. That was it. Some days I eat voraciously and some days I'm very tepid.
Monday, April 1


I started my day with egg salad with tomato on challah bread from Europan in my neighborhood. The owners are very nice. I like doing stuff at home or in the neighborhood.
Sometimes I keep Hebrew Nationals in the refrigerator and for three days straight I'll have two dogs a day. Because when you're a kid you're only allowed one a week, you know?
For dinner, I made pasta with olive oil, garlic, and basil. I make that a lot. Sometimes I make a red sauce. I could eat pasta every day — no gun to my head there. I can't gain weight, so …
Tuesday, April 2


I made myself breakfast: pancakes, fried eggs, and ham. Everything was from Fairway. I make the pancakes very thin, almost crêpelike, with butter and syrup, and a fried egg on top.
I usually have a glass of red wine once a day with a meal or two, more so in France. Red wine is great, and fortunately, it's healthy, so that happened at some point.
Lunch was homemade lamb chops, diced rosemary-and-garlic potatoes, and broccoli rabe with garlic and oil. I know a lot of good cooks, so I learn from them.
I did the yogurt, toast, tea thing for dinner. Snacked on guacamole and chips. That's the only thing I really "snack" on.
Wednesday, April 3


I ate lunch at Dakota Bar. It was a Cobb salad, with chicken, avocado, bacon, roasted peppers, hard-boiled eggs, and blue cheese. It was fantastic. Technically, I ate it alone there, but I'm never alone; I'm always with my dog … and my thoughts. I'm never, ever bored.
For dinner, I went back to Big Nick's. I've been going there since I was a starving actor. I debated going to Ouest, which is really good, or La Vela on Amsterdam — homey and nice owners.
Occasionally, I'll go to the nice restaurants … Tribeca Grill or Nobu. I think anything Drew Nieporent does is brilliant. But you know, I'm a neighborhood guy.
Related: 7 Fantastic Outtakes From Richard Belzer's Grub Street Diet Shoot