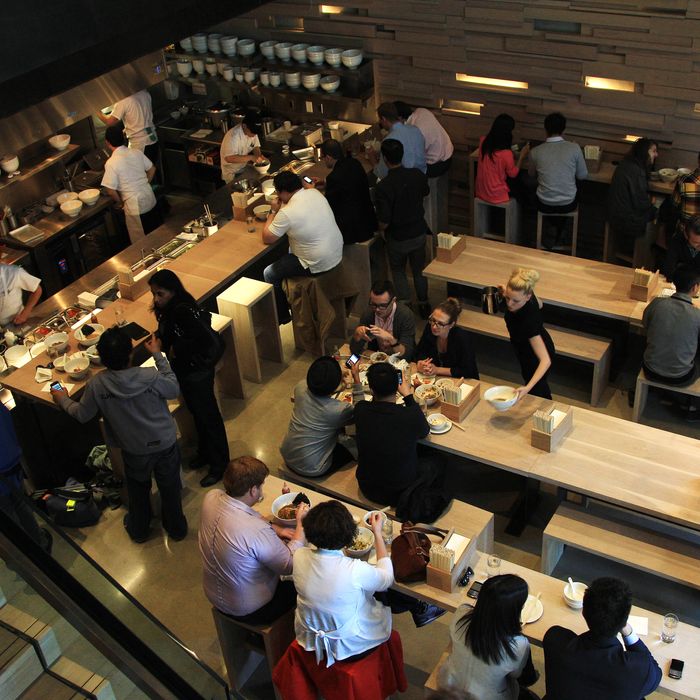 Toronto's Momofuku Noodle Bar looks rather familiar.
Photo: RENE JOHNSTON/Toronto Star/Getty Images
One of the undisputed joys of living in New York is the city's huge collection of unique, unimpeachable restaurants. But lately, more and more of our favorite eating and drinking spots are opening new locations abroad. Last week, Saxon + Parole announced plans to open an outpost in Moscow. Balthazar opened a carbon copy in London in February, as did Motorino in Hong Kong last month, and even Brooklyn Brewery is planning a massive $5 million expansion in Sweden. These restaurants aren't exactly turning into chains; this is a smart, established expansion plan that brings in more money for owners and, because the new restaurants are so far away, doesn't soften the appeal of the original New York location. Here, then, are 21 spots with foreign look-alikes. Not all of these restaurants are strict carbon copies, but for the most part, they're quite similar to their sister restaurants.
Aquavit


Where: Stockholm and Tokyo


The modern Scandinavian restaurant opened in Sweden in 2008 and in Japan later that year. Nordic food's a big deal everywhere, it seems.
Balthazar


Where: London


Keith McNally recently opened his classic New York bistro across the pond, and despite one reviewer's scathing critique, diners seem to think it's as strong as the one in Soho.
Bar Boulud


Where: London


Inside the fancy Mandarin Oriental Hyde Park in Knightsbridge, there's a "sister restaurant" to Daniel Boulud's uptown spot.
BLT Burger


Where: Hong Kong


There are eleven types of burgers at this outpost, including the ultra-American Tex-Mex with jack cheese, salsa, avocado, chili, jalapeños, onions, and sour cream.
BLT Steak


Where: Hong Kong and San Juan, Puerto Rico


The Hong Kong location offers a daytime buffet! Whoa! Can we get that going in New York?
Boqueria


Where: Hong Kong


The same bacon-wrapped dates, seared beef a la plancha, and paella dishes that are in Soho and Flatiron are also in central Hong Kong.
Brooklyn Brewery


Where: Stockholm


The Williamsburg brewery is opening a $5 million, 8,000-barrel outpost in Sweden. It'll become the only craft brewery in Stockholm, and it'll overlook the harbor. Nice.
Brooklyn Diner


Where: Dubai


We're aware that Brooklyn's popularity is booming abroad, but it's still weird that the terribly inauthentic midtown restaurant is multiplying. Surely this is not how Brooklynites want to be represented.
Bubby's


Where: Yokohama-shi, Japan


The 24-hour Tribeca spot has three locations in Japan. And yes, you can find the same stacks of fluffy, chocolate-chip pancakes. It's the ultimate cure for homesickness if you're living abroad.
Café Habana


Where: Dubai


You're able to get the excellent Mexican corn-on-the-cob all the way in Dubai. No word on if the Middle Eastern hipsters have made this their go-to spot yet.
Jean Georges


Where: Shanghai


This French restaurant's strikingly similar to his spot on Central Park West. The menus are practically identical: egg caviar, tuna ribbons, and foie gras brulée with dried sour cherries.
Lupa


Where: Hong Kong


Mario Batali's carbon copy of his Thompson Street restaurant offers the same ricotta gnocci and Cacio e Pepe. The Hong Kong location's housed on the third floor of the LHT Tower, an office building and shopping mall — a long way from the Village.
Magnolia Bakery


Where: Dubai, Kuwait, Beirut, Doha


Unfortunately, America will continue to be associated with cutesy cupcakes because of this chain's international presence. Enough with the cupcakes! Enough! Just eat cake!
Momofuku Noodle Bar


Where: Toronto


David Chang is expanding his empire all over the world; he opened this new Noodle Bar in September of last year. Same awesome pork buns and ginger scallion noodles.
Momofuku Seiōbo


Where: Sydney


The concept for this restaurant is unique to Australia, but it's most like Ko in New York because there's an eight-course, always-changing tasting menu served during lunch and dinner. Seiōbo is the Japanese goddess of the West. Now you know.
Motorino


Where: Hong Kong


The awesome cherry-stone clam and Brussels sprouts pies aren't exclusive to the East Village; you can find one of the city's most beloved pizza joints in Hong Kong too.
Saxon + Parole


Where: Moscow


News broke last week that the Noho restaurant and its chef, Brad Farmerie, are expanding to Russia. Portobello-mushroom mousse and that awesome Angus-maple bacon burger will attract any nationality.
Serafina


Where: Sōo Paulo,Tokyo, Moscow, Russia, Mumbai, India


The Italian restaurant's become a full-fledged chain, expanding both nationally and internationally. The pizza's still mediocre.
Shake Shack


Where: Dubai, Kuwait City, Doha, Abu Dhabi, Kuwait, London, Istanbul


Can Danny Meyer expand Shake Shack without diluting the quality of the food? That remains to be seen, but he's sure going to try to repeat the magic all over the world. Maybe even at the happiest place on Earth.
Spice Market


Where: Doha, Qatar; London


Jean-Georges is big on expansion. You can find the same southeast Asian cuisine in two locations abroad — and it looks like they have the same "unce unce" vibe as the meatpacking original.
Union Square Cafe


Where: Tokyo


This outpost isn't quite a replica; Union Square Tokyo is only "inspired" by the New York location. But the menu does include Michael Romano's roast chicken.