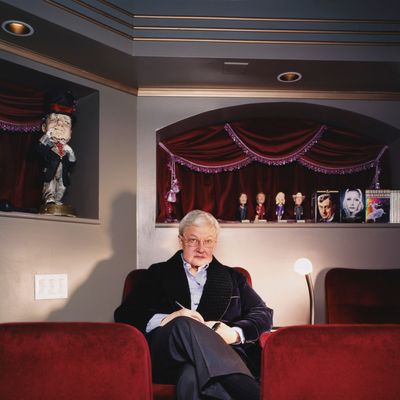 Photo: Michael Lewis/Corbis
All of Chicago media is remembering a star of Chicago media, one for whom the general public had genuine affection for, and actually shares the inevitable, "We will never see his like again" boozy newspaper sentiment. Roger Ebert could express his love for the whole range of movies, from highbrow to lowbrow to whatever his own screenplays for Russ Meyer movies were, to the regular guys of Chicago without being a parody of a regular guy. Food was a much smaller public interest of his — he only wrote one book about it — but several publications have pointed us to interesting food- and drink-related items he left behind. Gapers Block among others pointed us to a 1987 outtake session from Siskel & Ebert at the Movies in which they give each other shit, mainly about Ebert supposedly loving McDonald's; it's below. And nearly everyone has mentioned his poignant piece about how cancer had taken away the ability to eat or drink, which he responded to, like a writer ought, by eating and drinking in his head.
But as a member of the last generation of hard-drinking newspapermen — and, perhaps, the first generation of newspapermen in AA — he wrote several tributes to bars that were clear-eyed about how they were stages for outsize personalities but not, necessarily, entirely admirable ones.
This celebrated tribute to O'Rourke's in Old Town appeared in Granta, but perhaps the most intriguing one is this one from his blog that chronicles how the camaraderie of bar life transitioned (for its survivors) to domestic life, social media, and, in Ebert's case, life without a voice or the ability to eat or drink. Is it interesting to read about a party someone else had? From Ebert it was.