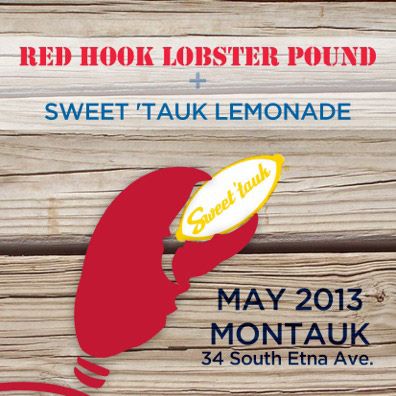 Montauk-bound.
Photo: Courtesy of Red Hook Lobster Pound
More big news: Ambitious new lemonade start-up Sweet 'tauk is teaming up with the Red Hook Lobster Pound to open a combination lobster roll and refreshments shop in Montauk at 34 South Etna Avenue early next month. The East End restaurant will be open for lunch and dinner, and like the Pound's original location in Brooklyn, some picnic-style seating will be available. We're talking lobster and shrimp rolls, but also a lobster Caprese salad and lots of clam chowder here. Plus, hot dogs. In addition to a roster of raw-agave-sweetened lemonade flavors, Sweet 'tauk will sell a variety of made-from-scratch ice pops and a selection of small-batch ice creams. Check out the latest draft of the full menu, straight ahead.

Menu*

Red Hook Lobster Pound
Lobster Rolls
Maine Roll
Connecticut Roll
Tuscan Roll
Lobster BLT

Shrimp Roll
Tuna Melt
Hot Dog with Chips
Lobster Mac-N-Cheese
Plain Mac-N-Cheese

Soups
Downeast Bisque
Clam Chowder

Salads
Lobster Caprese Salad

Sides
Cole Slaw
Potato Salad
Corn on the Cob

Sweet'Tauk

Lemonade
Watermelon Cucumber
Strawberry Mint
Blueberry Lavender
Peach Thai Basil
Cantaloupe Verbena

Ice Pops
Watermelon Jalapeno
Raspberry Hibiscus
Rhubarb Creamsicle

Ice Cream
Sweet'tauk has teamed up with Joe & Liza of Sag Harbor's Bay Burger and will scoop their small-batch flavors, which are all made with cream and milk from the Hudson Valley Fresh Cooperative. Ice cream is hormone and antibiotic free!


Look for the new shop, which is Red Hook Lobster Pound's second brick-and-mortar location, as well as Sweet 'tauk's first, to debut in early May.
*This menu is subject to change.