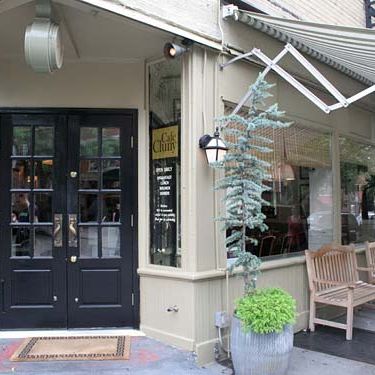 Phillip Kirschen-Clark's entrees are "radical."
Photo: Shanna Ravindra
This week, Adam Platt tried two different takes on traditional Spanish cuisine at Cata and Manzanila. The former earned two stars for its crispy prawns and grilled kale, while the latter garnered no stars for its overcooked Iberian suckling pig and a smoked octopus appetizer that tasted like it had been microwaved. See how the other critics fared after the jump.

Pete Wells traveled to Randazzo's Clam Bar in Sheepshead Bay, which was devastated by Hurricane Sandy in October. He said he went for the Sauce (capital S — there's only one Sauce): "dark, intense, concentrated, oregano-accented." He dumped it on lobster, shrimp, and mussels, and was "crazy about" the shrimp parmiagana and the lobster far diavolo, but could have skipped the lobster bisque. One star.
Jordana Rothman took the reins at Time Out and reviewed Kappo at Má Pêche, the eight-seat chef's counter inside David Chang's midtown restaurant. The ten courses change every night, but she found green bananas with sweet lobster meat, beef tendon soup with plantain dumplings, and a DIY mofongo to be excellent. She deemed the counter a "charismatic evolution" and noted that each diner is sent a hard copy of the menu as a reminder of the meal. Three stars.
Robert Sietsema revisited five-year-old Café Cluny to try dishes from new chef Phillip Kirschen-Clark. He was impressed by seasonal takes on beet salad with ricotta — "nothing quite like it has graced a salad before" — and a carrot salad with finely grated foie gras. Entrees, he said, were "radical." Asparagus risotto with a poached egg, and a hamburger with Gruyère and bacon strips won him over.
Tejal Rao reviewed Nightingale 9 in Carroll Gardens and found comforting Vietnamese-American street food from the folks behind Seersucker. Dishes like a salad of chilled fluke and crab covered with a "snowfall of grated coconut" were "well-built and finely tuned," often highlighting the "complexity of American food." A palm-sugar Popsicle for dessert was a "star" and "surprisingly rich," though traditional pho could have been a little more seasoned for Rao's taste.
Joshua David Stein dined at Montmartre, Gabriel Stulman's latest "post-colonial French bistro." Stein calls it "as flawed and uneasy, as rich and vibrant, as complicated and perplexing as a love letter to a colonizing power should be." But halibut poached in chamomile tea was "perfectly executed" and Stein now thinks every chef should put scallions and sesame seeds on chicken liver.
Leo Carey at The New Yorker also went French and checked out Le Philosophe, where he enjoyed the casual atmosphere with not so casual "old-school" dishes. Lobster thermidor evoked "butterscotch and lemon yogurt," he said, and veal blanquette was "a dialogue between the velvety, almost fondue like white-wine sauce and the fibrous textures of the underdone root vegetables."
Ryan Sutton found Carbone to be "spectacular." The Caesar salad tossed tableside was "flawless," and Scottish langoustines in scampi became "silky sponges." In fact, he dubbed the restaurant "already one of our city's finest seafood spots." He delighted in meats like whole squabs and fennel-coated pork ribs, but deemed pastas to be the restaurant's "weak spot." Three and a half stars.
Stan Sagner reviewed Pearl and Ash, where he called a meal there a "scavenger hunt." Hanger tartare "flirts with perfection," and diver scallops "melt like lozenges," though he declared octopus with a "candy-like BBQ-charred crust" the "best dish on the menu."