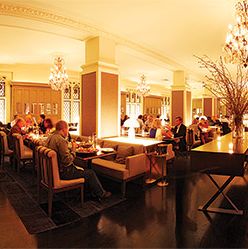 This feels like the end of the Roman Empire," muttered one of my guests as we surveyed the scrum of hedge-fund sharpies, tourists, and tightly grinning uptown matrons who milled around the cavernous bar and dining room at Harlow, which opened a couple of months ago off the lobby of the Lombardy Hotel. The ornate, windowless rooms are supposed to have been built by William Randolph Hearst for his mistress, Marion Davies, as a private-party space, and they've been occupied by a string of formerly chic dowager restaurants over the decades. The latest tenant (the Studio 54 veteran and former Nobu managing partner Richie Notar) has painted the walls a dull, shark-colored gray. The menus have a zebra pattern, and the friendly wait staff are dressed in collared gray shirts and look like employees on a lavish, though slightly gloomy, private yacht.
Restaurants like Harlow used to pop up all over town during the go-go years, but in this grimly post-crash era, they've been few and far between. Maybe that's why I found myself furtively enjoying my tall, cool Mignonette martini ($14, with Bombay Sapphire, Noilly Prat, plus "house pickling liquid") while one of my guests waved merrily to those former boom-era icons Susan and John Gutfreund, who were quietly sampling the house crudo on the other side of the room. The crudo wasn't half-bad, either, in particular that old reliable hamachi ($20, with fresh avocado, cilantro, and a spritzing of yuzu), and the generously portioned house ceviche, which is composed in the classic Peruvian way, with shrimp, baby octopus, and plump scallops tossed in a smoothly tart "tigre de leche" sauce made with limes and a splash of orange juice.
Exactly who the chefs are at Harlow isn't entirely clear, although Notar has recruited a young cook named Danny Ye from the vast Nobu chain to oversee the kitchens. My tasters and I had no major complaints about the early appetizers, which included lamb meatballs ladled with a marinara spiked with Korean chile paste, and a buttery-crusted seafood pie filled with fresh vegetables and chunks of lobster and cod. The entrées are less distinguished, although you could do worse than the branzino ($34, topped inventively with a wasabi-stem gremolata and hearts of palm), or the stolid version of Mediterranean-style fisherman's stew ($35), which is garnished with a grilled baguette the size of a small canoe.
Notar is a club restaurateur of the old school, which means the mood lighting slowly dims as the evening progresses, and the incessantly thrumming soundtrack is cranked up to just below disco level. The antic, crowd-pleasing desserts (churros with marshmallows, a watermelon granita "cocktail" touched with Pimm's) are designed less as an end in themselves than as something to pick over with your friends until the next set of drinks arrives. But I found myself lingering over the ice-cream sundae ($11, with a tray of decorative, do-it-yourself toppings), and a creation called "bananas Zapin," which the chefs make with caramelized bananas, peanut-butter gelato, and a salty, compulsively edible chocolate sauce.
John Delucie's makeover of the old Bill's Gay Nineties townhouse space on 54th Street is another pricey new midtown restaurant that hews closely to a careworn formula. DeLucie and his partners have left the bottom floor of the legendary old saloon more or less intact, complete with ersatz sports photos hung crookedly on the walls and an aged piano player tinkling away in a corner of the room. But the vaulted upstairs dining room at Bill's Food & Drink has been decorated in the style of their popular downtown establishment, the Lion, with deer heads, an ancient ship's wheel, and random portraits of old tycoons. Like at the Lion, the menu has an assortment of ye olde plutocrat specialties (Osetra caviar, Delmonico steak, bacon chops), and if your friends happen to be hungry (or, God forbid, thirsty), you'll be lucky to escape the joint with a bill under $500.
My last meal cost exactly $660.71, for four people, plus tip, but minus the cost of an excellent Bordeaux (Château Cherubin '06), which my friend paid for out of the kindness of his heart. Our feast included some borderline sludgy yellowfin-­tuna crudo ($21), several oversauced pastas, and a delicious egg-and-cheese fonduta dotted with black truffles. We eschewed the $65 foie gras in favor of the $45 lobster fra diavolo, which was an oily mess. The steaks tasted like bad London broil on my first visit, but they're better now, although to procure the best ones (the porterhouse, the rib eye), you'll have to fork over a total of $183. The most economical option is the loup de mer ($29), and if you're still hungry, I suggest the soft-serve ice cream, which, in classic plutocrat style, comes in a frosty silver cup.

Harlow
111 E. 56th St., nr. Park Ave.; 212-935-6600; harlownyc.com
Hours: Monday through Saturday 5:45 to 11 p.m.
Prices: Appetizers, $10 to $31; entrées, $25 to $47.
Ideal Meal: Ceviche or seafood pie, branzino, bananas Zapin.
Note: If you want to eat in peace at the bar, try the crudo bar in the dining room instead of the bar in the lounge.
Scratchpad: Zero stars for the atmosphere and one star for the sneakily sophisticated ­seafood cooking.
No stars
Bill's Food and Drink
57 E. 54th St., nr. Madison Ave.; 212-518-2727; bills54.com
Hours: Lunch Monday through Friday 11:30 a.m. to 3 p.m.; dinner Monday through Thursday 5:30 to 11:30 p.m. (open until midnight on Friday and Saturday).
Prices: Appetizers, $12 to $21; entrées, $21 to $58.
Ideal Meal: Fonduta, branzino or rib eye, soft-serve ice cream.
Note: The trophy-heavy wine list is short on bargains, but if you have the capital, you can drink like a king.
Scratchpad: One star for ye olde plutocrat menu, minus a star for the exorbitant ­plutocrat prices.
*This article originally appeared in the April 22, 2013 issue of New York Magazine.
Photograph by Victor Prado/New York Magazine