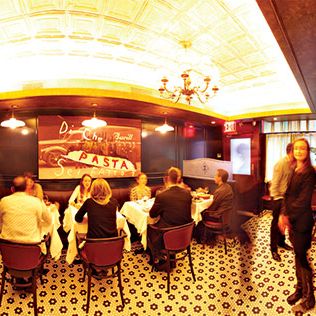 Carbone. Photo: Victor Prado/New York Magazine
"Order the cocktails, they're sooo craaaaazy good," whispered the guest to my left, her cheeks flushed with the kind of gleeful excitement you rarely see in the dining rooms of purposefully stodgy, retro red-sauce Italian restaurants. Not that we're dining in just any red-sauce Italian joint, of course. We're seated in the back room at Mario Carbone and Rich Torrisi's new pasta palace, Carbone, which, in certain quarters of the hothouse food world, is regarded as the equivalent of courtside Knicks tickets, or a private box at the Met. News of the project has been fodder for countless blog posts ever since the young chefs announced they would be taking over the old Rocco space in the Village and turning it into a restaurant of their own. Now that Carbone has finally opened, the 72-seat establishment is being bull-rushed by legions of the Torrisi boys' ardent admirers, including my guest, who admitted, after our drinks arrive, that she'd already eaten here seven times.

This kind of rabid fan worship has been a Carbone-and-Torrisi trademark ever since they turned their modest ­Mulberry Street deli, Torrisi Italian ­Specialties, into one of the city's hottest dining destinations virtually overnight. Like Torrisi and their great sandwich joint, Parm, Carbone is designed as an homage to the classic ­Italian-American dining experience. The tables are set with starchy white linen, and the floors are covered in the original tile. The world-weary waiters are dressed in old scarlet coats that look like they've been lifted from the set of The Shining. The great flapping menus are as big as doormats and filled with throwback ­specialties (baked clams, lobster piccata, a giant veal-chop Marsala for $52). At the table next to us, a group of verbose wiseguys (or, more likely, bond traders) were merrily yelling obscenities at the top of their lungs while the bouncy sounds of Louis Prima drifted from the stereo.
"This place is like Il Mulino for hipsters," someone at our table said, just as the Il Mulino-style chunks of Parmesan and stacks of oily "Grandma bread" came clattering down, as if on cue. There are also platters of crisped sweetbreads ­Milanese ($19) in this first avalanche of food, along with a weirdly burnt, under-tenderized octopus pizzaiolo ($17, with a mushy wad of red peppers), and a rich shellfish "Posillipo" pan roast ($19) served in a metal salver the size of a small hubcap. In the midst of all this extravagance, more bread arrives in the form of a basket piled with enough freshly baked semolina, crunchy garlic bread, and curving Parmesan sticks to feed a family of Sicilian peasants for a week. It's followed, in short order, by the pastas, which are so numerous (there are ten) and so unremittingly heavy that they caused one of my guests to abruptly get up and leave the table. "I think I need a breath of fresh air," he said.
Over-the-top largesse is one of the time-honored rituals of the old-school red-sauce dining experience, of course. But Carbone and Torrisi made their considerable (and deserved) reputation by improving on the tired conventions of Italian-American cooking, not by aping them. And as one pricey, oversauced pasta blends into another (only one item in the Macaroni section of the menu is under $23), many of these elevated retro ­preparations begin to taste distressingly like the kind of thing you'd be served on a Tuesday night at some venerable B-list pasta joint. My $28 helping of creamy, green-noodled penne primavera ­managed to be both unctuously rich and strangely bland at the same time. The plump, ricotta-filled ravioli "Caruso" ($24) were properly light and fluffy, but the spicy rigatoni (in a classic vodka sauce, for $24) was gummy and overspiced, and the elaborate, shellfish-rich seafood sauce ladled over my spaghetti di mare ($30) was so oily that I pushed half of it off my plate.
Carbone has been open for seven weeks, and at this early date, the uniformly gargantuan entrées (there are nineteen) are similarly hit-or-miss. "Where am I, City Island?" one guest exclaimed as we pondered the clammy bass oreganata ($30), which is served over a greasy net of broccoli rabe. A disastrous experiment called Chinese Chicken ($29) tastes like it's been slathered with a mix of Chinese mustard and crankcase oil, and the thin, watery Marsala sauce on my otherwise presentable veal chop was weirdly devoid of thickening flour or cream. Torrisi fans can't stop talking about the Chinese-style "cherry pepper" ribs ($29), or the justly praised (though, at $50, ridiculously priced) veal Parmesan, but if you want to sample the full range of fatso meat delicacies, I suggest the mixed grill for two, which is hoisted to the table on a butcher board as big as a paving stone and, at $140, costs as much as a ticket to a Broadway show.
With its costumed waiters and all the rest of the ye olde pageantry, Carbone isn't so different from a top-line theatrical show, of course. The mostly beefy, mostly Italian red wines are pricey but impressive, the throwback cocktails are delicious (try the Daiquiri, tinged with Chartreuse), and when the blimp-size dessert tray heaved into view, the Torrisi fan-girl at our table could barely contain her glee. "That's the best carrot cake I've ever had, and I don't even like carrot cake," she cried as our waiter cut us a luminously orange slab from an object the size of a Victorian wedding hat. The other supersize cakes were also excellent, I dimly recall (the chocolate blackout cake; the tiramisu, which is trussed with twine around its large circumference, like a prize hog), but if you happen to be in the grip of a food coma, I recommend the fresh grapefruit, which is artfully arranged in its frozen shell and sealed with a candied brûlée top.

Carbone
181 Thompson St., nr. Bleecker St.; 212-933-0707; carbonenewyork.com
Hours: Dinner Sunday through Thursday, 5:30 p.m. to midnight, Friday and Saturday till 1 a.m.
Prices: Appetizers, $14 to $48; entrées, $27 to $53.
Ideal Meal: Bread basket; ravioli "Caruso," mixed-grill cacciatore, or veal Parmesan; tiramisu or frozen grapefruit.
Note: For a time, you needed a "special number" to get a table, but the restaurant is now listed on OpenTable.
Scratchpad: It's possible to have a decent one-star meal if you choose wisely, and we'll give another star for the theatrical atmosphere. Minus a star for the zany prices.
*This article originally appeared in the May 6, 2013 issue of New York Magazine.