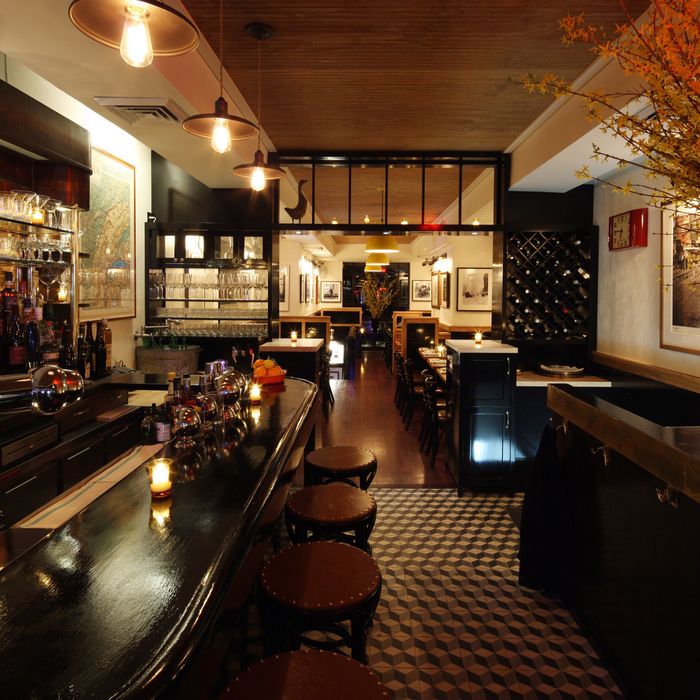 Cheshes calls Gabriel Stulman and Tien Ho's food "off-key."
Photo: Melissa Hom
This week, New York's Adam Platt revisited the Graydon Carter-revamped Beatrice Inn, finding that the cuisine is now as impressive as the scene. Under new chef Hillary Sterling, "world-class" goat cheese gnudi and "deliciously tart" lemon curd are dazzling enough to ignore the boldfaced clientele at neighboring tables. Two stars. Where did the other critics go to dine? We serve that up, straight ahead.
Jay Cheshes says Montmartre, Gabriel Stulman's Chelsea French bistro, "could have been a winner, if the food were better." From escargot "reduced to a rubbery garnish" to frisée aux lardons "served with an overcooked egg and a few leathery strips of duck confit," the restaurant served up "one off-key dish after another." Food is more tolerable when chef Tien Ho improvs dishes, like a "well-seasoned" fried skate. That glimmer of hope soon disappears once you try desserts that are "across-the-board clunkers." Two stars.
"Be prepared for powerful flavors," Ryan Sutton says of Aska, Fredrik Berselius' temple to Nordic food in Williamsburg. While he also warns of long waits between courses, patience is rewarded by reasonably priced tasting menus of "oddball extravagance." He raves about the "superlative" butter-roasted whelks, oatmeal marrow "amped up with egg yolk and salty shad roe" ("the best and richest cereal known to humankind"), and a "totally delicious" sugar-cured egg yolk as dessert. For Berselius's culinary vision, three stars.
At the Torrisi team's Carbone, Joshua David Stein finds that "neither ingredient nor technique is stinted on." Scottish langoustines in a scampi alla scampi "are so fresh they only seem to be playing dead," lobster fra diavolo is "uncomfortably close to the size of a newborn," and cold antipasti is "like the Langley of unexpected delight." While things are tasty, he believes that dishes that stemmed from poverty don't warrant such high prices. The restaurant succeeds in its "quest for greatness," but is "too often at odds with what makes a red-sauce joint great."
At Manzanilla, chef Dani Garcia's "modern Spanish brasserie," Tejal Rao "expected a lesson in hospitality, rather than one in patience." Despite inattentive service, food proved satisfying with "sweet, lovely" bomba rice, "fine and fatty" Iberico pork, and sea bass that was "more exciting, more beautiful, more delicious" when served in a liquid sphere. Not as exciting is when Garcia plays it safe with a "snack" of fried Brussels sprouts, "like the punchline to a joke that's been lost in translation."
Robert Sietsema declares East Flatbush's Cathedral "one of the city's most approachable Haitian restaurants." The menu may offer just eleven dishes, but each is served with "belly-busting proportions." He praises two types of confit — one, made from pork (grillot) that's an "electrifyingly good" conversation ender, and a "softer" variant made from turkey (dinde tasso). Both are "equally irresistible." Seafood dishes are less successful with the exception of a "perfectly fried" red snapper. Still, Caribbean-inspired surprises like a poulet en sauce are "Flatbush fusion at its finest."
Steve Cuozzo dislikes the "attention-begging shticks and nuisances" at buzzed-about Bowery restaurant, Pearl & Ash. Reservations are "limited," the music is dive-bar volume, and the 1,000-strong wine list "overwhelms the menu." The good news is the small plates, from a "thrilling, harmonious" blowtorched scallops with berbere spice to a skirt steak that's the best he had this year. Though chef Richard Kuo deserves credit for "creations that are inventive but usually not fussy," he can't stand the gimmicky Brooklyn "weirdness" of a fernet branca ice cream sandwich. The menu would have gotten two stars if not for the dessert, which "tastes like Vicks VapoRub." One and a half stars.
Michael Kaminer reviewed Danny Meyer's Union Square Café and found that its "wrinkles are showing." Dishes like charred beef sirloin carpaccio lack "depth or dimension," and main courses like grilled tuna are "dull" and "dated." Even the desserts are beautifully plated but boring. To make things worse, the staff acts "overly familiar or depressingly world-weary." Two stars for the restaurant — and Kaminer recommends the seared baby octopus and roasted duck.
The New Yorker's Shauna Lyon hit up two barbecue joints on opposite sides of the East River. At Mighty Quinn's, finding a seat is "every meat lover for himself," even if "perfectly charred" brisket is worth the bustle, as is a "gargantuan" rib that "offers an array of beefy textural experiences." But Long Island City's John Brown Smokehouse delivered less on ribs than on relaxation. Brisket is a "gray, dry disappointment," but smiles are plentiful here thanks to "amazing" lamb sausage and "amiably open seats."
Pete Wells headed to Houston, Texas, to try two restaurants that are making it "one of the country's most exciting places to eat." At chef Justin Yu's Oxheart, poached turkey breast was "good enough" to make him "wonder why Americans don't see more of this bird we supposedly revere." He likes that the restaurant is "one of the growing number of places around the country that are rearranging our notions of what fine dining means," with old-school markers of luxury overturned by a carrot dish with "deep, meaty" flavors. Across town at Underbelly, he finds an "absolute winner" in Korean braised goat with dumplings, and loves "non-fancy desserts" like fried strawberry pie and vinegar pie.