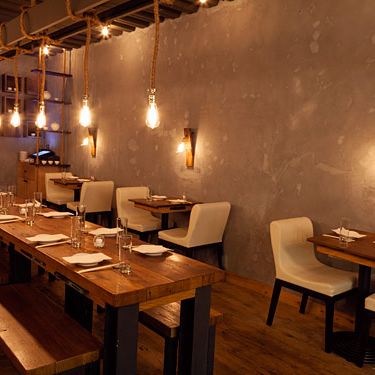 Two stars for Hanjan.
Photo: Dominic Perri
This week, the Underground Gourmet filed a twofer. They headed to Bushwick to visit Mama Joy's, a self-described southern gastropub that earned three stars. Café à la Carte at Hotel Particulier received two stars, quite a feat for its outsourced "no-kitchen concept." What did the other critics devour this week? Read on to find out.
Pete Wells reviewed Hanjan, Hooni Kim's Korean restaurant in flatiron. He was most impressed with the pajeon (a type of Korean pancake with squid tempura) and noted that Kim "accomplished the most delicious kind of engineering feat" with its preparation. Wells applauded the fresh (killed daily) poultry used in chicken wings and yakitori skewers, and advises diners in-the-know to stop by post-10 p.m. for late-night ramen. Two stars.
Robert Sietsema dined at Clinton Hill's Three Letters. He delighted in the French dishes, and called the fries "some of the best in Brooklyn." Less-Parisian plates like a bánh mì, cloaked as a "bon mise," also won Sietsema over, proving Three Letters is an excellent marriage between Brooklyn and France.
Tejal Rao checked out Cata's tapas selection on Bowery. The restaurant's paella — especially the mushrooms and duck confit variety — impressed her. But the true star of the dish (and the eatery) is the traditional bomba rice: "sweet here with sofrito, savory with duck stock, brown and crisp along the edges."
Michael Kaminer spent time at Graydon Carter's West Village celebrity magnet, Beatrice Inn. But Kaminer wasn't too pleased with new chef Hillary Sterling's fare and deemed it "almost defiantly awful." Grilled octopus was too salty and "lingers as one of the most insipid versions," and Colorado lamb was "overshadowed by salty braised artichokes and shallots." But simple dumplings filled with goat cheese and ricotta were delightful — "a supremely elegant spin on comfort food." But, alas, "no one's here for the food."
Steve Cuozzo glitzed it up at Richie Notar's new seafood restaurant Harlow, the "Old Hollywood Glamour Joint" on 56th Street. After more than a few restaurants closed in the same space, Cuozzo said this one is "unrecognizably fresh." A few dishes missed the mark — "watery scallops" in truffle oil — but strozzapreti pasta with shrimp, king crab leg, and sea urchin was "rich and dandy." When a "deconstructed" ice cream sundae was served for dessert, Cuozzo offered, "Don't try it in Harlem, Mr. Notar!" referring to the restaurateur's upcoming venture in Harlem's former Lenox Lounge space. Two stars.
Amelia Lester of The New Yorker found "fancy food in unlikely places" at the Pines in Gowanus, where former Roberta's chef Angelo Romano is at the helm. A dish simply named "Lettuce" was one of her favorites — croutons scattered around a romaine wedge with nuggets of guanciale. But Lester found many of the dishes to have a "kitchen-sink quality."
Jay Cheshes visited Jeepney, the Filipino gastropub in the East Village where he said most dishes "are more likely to make converts of adventurous diners." He recommended the weekly Kamayan Feast, where customers are in for a utensil-free "extravaganza" of pork in coconut curry and sweet-savory pork sausage, all in huge portions. These "warming offerings" make for an excellent entree into Filipino Cuisine, Cheshes decided.*
*This post has been corrected to include Jay Cheshes' review.