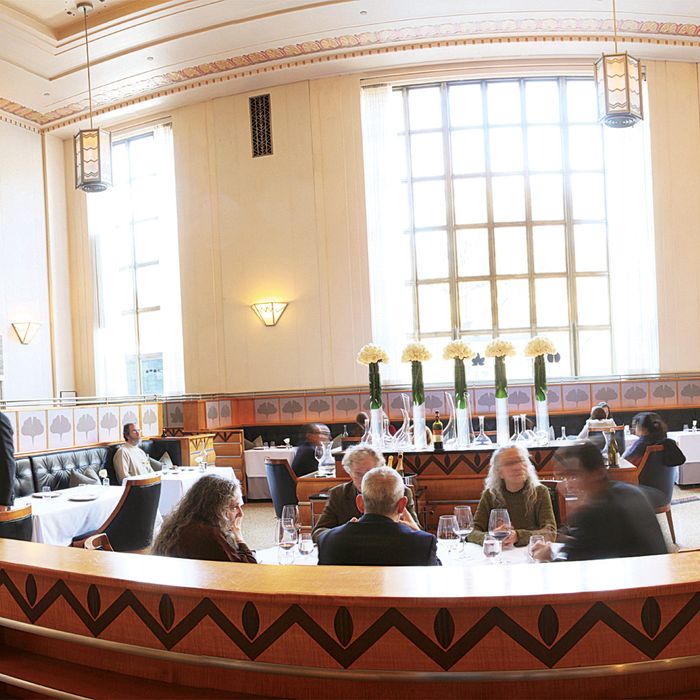 Eleven Madison Park moved up five spots to land at No. 5.
Photo: Victor Prado/ New York Magazine
With yesterday's release of the "World's 50 Best" restaurant list, the annual designation awarded by the U.K.'s Restaurant magazine, most talk turns to the pursuit of perfection, various and sundry tweezer-wielding chefs decked out in crisp whites, all that. But the list actually extends to 50 more places and 50 runners-up that are also ranked. Here's a look at the bigger picture.
Just like last year, there are nine New York restaurants on the 2013 list:
5. Eleven Madison Park (2012 ranking: 10)
11. Per Se (6)
19. Le Bernardin (19)
29. Daniel (25)
63. Blue Hill at Stone Barns (77)
86. Momofuku Ssäm Bar (37)
91. Masa (90)
93. Momofuku Ko (79)
98. Jean Georges (66)
Though it's not part of the top 50, Blue Hill at Stone Barns jumped from 77 to 63 — making it the widest gap closed for a New York restaurant in this year's rankings. Will Guidara and Daniel Humm's recently overhauled Eleven Madison Park is still chasing that top spot and pretty much flip-flopped with Per Se, which was bumped from the top ten into the eleventh spot. Le Bernardin held steady; Daniel lost four spots, and Masa went from 90 to 91 on the list.
Dave Chang's Momofuku Ko and Ssäm Bar slipped a collective 63 notches on the list, (but the chef's Momofuku Seiōbo in Australia is new to the list at position 89). Jean-Georges Vongerichten's flagship almost fell off completely.
Worth noting: New York has more ranked restaurants than all of Denmark, Spain, the U.K., or Italy. It has more than London, which has six, and even if one excludes the Westchester-based Blue Hill, New York is tied with Paris. People of the Big Apple should probably really like them apples.
The World's 50 Best Restaurants (50-100) [Official site]
Earlier: Here's the List of the World's 50 Best Restaurants
Related: Platt: The Celebrated Daniel Humm Reinvents Eleven Madison Park—Again