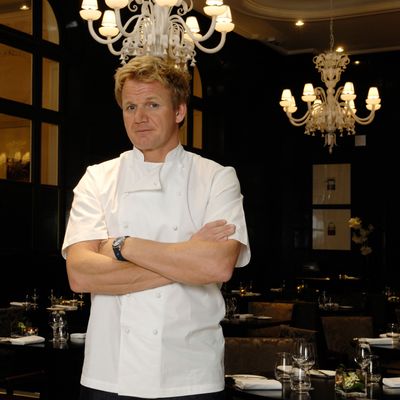 Worth the free PR?
Photo: Dominique Maitre/Corbis
America long ago exhausted its supply of brand-name cheftestants, but food-TV producers are still hell-bent on making someone compete for something. Enter Bravo, which today announced a huge slate of new programming, including new seasons of Top Chef and Top Chef Masters, as well as a show called America's Best Restaurant (not to be confused with NBC's long-canceled America's Next Great Restaurant), which will be produced by none other than Gordon Ramsay. It sounds … interesting. Here's what to expect.
The official description from Bravo:
Modeled after UK hit "Ramsay's Best Restaurant" and from executive producer Gordon Ramsay, "America's Best Restaurant" is a new food competition series that travels across the country and tackles the food world from a wholly different direction: the restaurants. Sixteen of the nation's best restaurants, representing all variety of cuisines, will compete against each other on their own turf to find out who truly provides the best all-around, top-to-bottom restaurant experience and deserves to be crowned as America's Best Restaurant.
So, who will be competing for this sure-to-be-prestigious honor? The French Laundry? Maybe Alinea? Ah, yes, there's the apparent rub: It's difficult to imagine any of America's actual best restaurants appearing on America's Best Restaurant, but you never know.
Perhaps we can glean some info by looking back on the original U.K. series (which so far has one nine-episode season). Per the criteria that "Ramsay's Best Restaurant" used to find its restaurants you should expect to see restaurants that "serve high quality food" and are "run by people who are passionate about food" and "can fully communicate their thoughts and ideas and their cooking style confidently and with flair." (Hopefully this kind of flair.)
But U.K. restaurants were warned they'd be disqualified if they weren't available for taping on dates specified by producers, or if any of their chefs and owners had previous criminal convictions. The winner of the first U.K. season was the Michelin-starred Casamia restaurant, outside Bristol.
Television is so saturated with cooking competitions that even Anthony Bourdain's presence can't prevent a show like the The Taste from bombing, so will a show that more or less comes down to restaurants being reviewed against one another fare any better? Only time will tell, but one thing's for sure: We'll check to see if David Rees is available to write the recaps.
Bravo Unveils Slate Of 17 New And 18 Returning Series, Announces Scripted & Unscripted Projects In Development [Deadline]