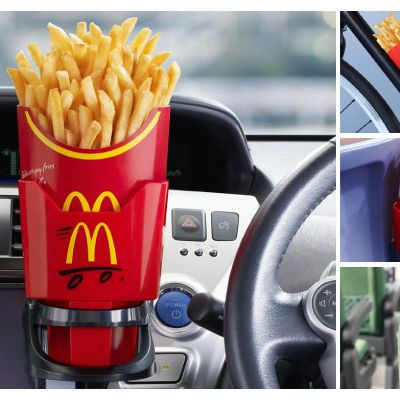 This French fry caddy won't help anything.
Photo: Courtest of McDonald's Japan
Order an extra value meal this week at McDonald's Japan and they'll gleefully hand you one of these French fry caddies, which fits right into any car cup holder. Because it also works on stadium seats and even fits in the wire rack where you'd hang your water bottle on your bike, this gleaming piece of red plastic may at first seem like the greatest invention ever, especially in the world of French fries, where big things come along every 30 years or so. But this piece of novelty fast food gear in front of you is really just a cry for help.
The fast food chain's outlets in Japan have been in free-fall, apparently, since last fall, when it announced 110 of its stores would close to make way for expanded delivery options. Incentives and gimmicks like the promise of filling orders in 60 seconds or less (timed, naturally, with comical, jumbo hourglasses) have also failed to drum up sales. Giveaways of things like mint chewing gum with breakfast orders have faltered, as have the tiny cans of Sprite and other things that don't mix well with hamburgers, like L'Oreal shampoo, and, of course, free skin cream.
Japan's fast-food-scape seems perpetually overpopulated with novelty pumpkin burgers and bizarre potato parties and weird promos and burger abominations, to the point at which it appears McDonald's may have sputtered out by following a Cold War-esque path of high-carb deterrence. The chain is now getting all flagellatory about it, too, reports Rocket News. "The biggest reason behind our failure is our declining creative ability," says chairman and president Eiko Harada, apparently blaming himself for not coming up with interesting-enough trinkets and freebies. "We have not been able to astonish our customers."
Whatever happened to entry-level Happy Meals? Perhaps the chain will become more successful the moment it stops trying to astonish everyone. Getting the same product wherever you go — and the associated comfort of being able to expect the same kind of experience — is foundational to fast food. It's not the promise of oral hygiene products with every sausage and cheese biscuit.
Paradoxically, it turns out that the American market will soon start experimenting with foreign menu items. "We're doing more with existing products we had in different countries," McDonald's CEO Don Thompson said last week, Burger Business reports. "We're finding out that great products travel really easily across country borders." So get ready for a McFlurry of new menu items, like the Chicken Big Mac, or the Green Tea Cream Frappé that's currently served only in Thailand. Hopefully it tastes nothing like toothpaste.
Free gifts, cheap coffee no help as McDonald's Japan troubles continue [RocketNews24]
A Dozen Menu Items McDonald's Could Import Now [Burger Business]
Earlier: Maybe Burger King Japan's Pumpkin Burger Is Trying to Tell You Something