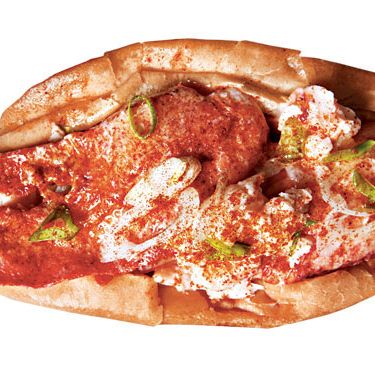 The Lobster Pound is back.
Photo: Hannah Whittaker/New York Magazine
We know the warmer weather signals the return of Smorgasburg, the Hester Street Fair, various High Line vendors, and Huey Lewis and the News. There's also Mad. Sq. Eats, which comes back Friday, May 3, and will run until the end of the month. New vendors this year include Third Rail Coffee, Sunday Gravy, Dreamscoops, Mason Jar NYC, Mr. Dorsey's Kitchen, Mmm Enfes, and a lot more. Vendors returning to make your street-food dreams come true include Asiadog, the Cannibal, Red Hook Lobster Pound, and news-makers Calexico and Roberta's. The full list is straight ahead.
New Vendors
Third Rail Coffee
Dreamscoops Ice Cream
Sunday Gravy NYC
SEOUL LEE KOREAN BAR B CUE
Eleni's New York
Mason Jar NYC
Mrs. Dorsey's Kitchen
MMM ENFES

Returning Vendors
Arancini Bros.
ASIADOG
Bar Suzette
CALEXICO
Charlito's Cocina
Graffiti / Mehtaphor
Hong Kong Street Cart
ilili
La Sonrisa Empanadas
Macaron Parlour
Mayhem & Stout
Melt Bakery
Mexicue
Mighty Balls
Mimi and Coco NY
Momofuku Milk Bar
Nunu Chocolates
Red Hook Lobster Pound
Roberta's
Stuffed Artisan Cannoli
The Cannibal
people's pops
Eats Your Hearts Out [Madison Square Park]
Earlier: BrisketTown Headed to the High Line, and Four More Edible Rites of Spring