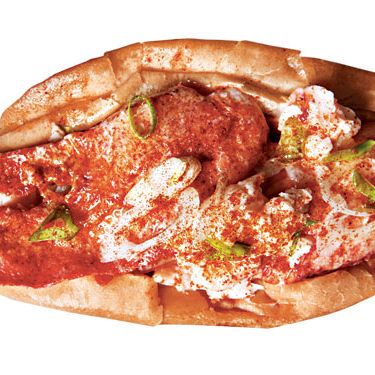 Excuse its French but it's not in France
Photo: Hannah Whittaker/New York Magazine
Seafood shack culture has gripped trendy French restaurants like a jumbo claw, or so says the Times, and now lobster rolls are popping up on both sides of the Seine. Using crustacean secrets gleaned from Mary's Fish Camp and Pearl Oyster Bar, former screenwriter Mathieu Mercier has opened a place called Lobster Bar. Sure, Mercier uses Brittany lobster. And sure, his kitchen deigns to steam and grill lobsters instead of the more traditional, less fussy plunge into boiling water. Elsewhere, precious tarragon tendrils have creeped their way onto Lobster Bar's "slightly sweet and caky oblong roll" like some kind of invasive species. As messed up as this is going to sound, maybe these French people are onto something.
Here's Exhibit A, looking dainty and, well, downright Parisian.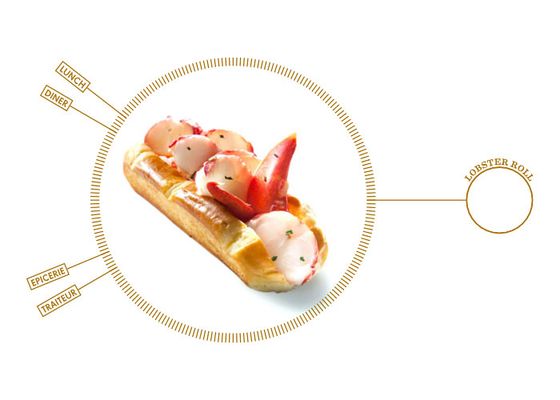 What a French lobster roll looks like.Photo: Courtesy of Lobster Bar

Purists will cringe and maybe freak out a little at the other sandwiches mentioned in the Times, like the "lobster croque" served at new Montmartre place Jeanne B, which comes draped in Mornay on "focaccia-like bread" with herbs, Parmesan cheese, and tomato-tamale vinaigrette. There's also the Moroccan-flatbread-wrapped version served at Café Prunier, with big pieces of homard dressed in vinegar, herbs, and honey, and then put to bed with fresh citrus supremes.
But what about the sudden appearance of lobster rolls in several arrondissements? Lobster Bar has been open for two weeks now, and it's already reportedly quite busy. All sorts of bloggers and sites have been pointing readers toward its "New York-style" lobster rolls, which, for whatever other sacrilege they may commit, get one thing right: The restaurant uses whole lobster to make its sandwiches.
Let's explain. It's not a dirty trade secret, or really a secret at all, but many lobster roll purveyors in New York City use very little lobster tail meat. Some use none at all.* (It should be noted that they still manage to serve exceptional food.)
There's a simple reason why tail meat doesn't make it into most New York lobster rolls. It's far more cost effective to bring in precooked meat from Maine and Canada rather than truck in thousands of live lobsters down I-95, keep them alive in cold sea water, then eventually pay someone $14 per hour to cook and break down all the carcasses to use in lobster rolls. And let's face it: not too many small business owners can afford the Avure Technologies Seafood High Pressure Processing (HPP) 2009 — certainly no one has the square footage.
(Warning: Graphic lobster/mollusk violence and annoying Thievery Corporation music follows.)
Machines like this are used by lots of lobster producers and are the reason why different kinds of lobster meat goes for different prices. By extension, it's why lobster roll makers outside of the Pine Tree State serve you a lot of knuckle and claw sandwiches. Tail meat is sold separately, and costs a lot more.
So for now, Maine still has the edge, but it would seem that Paris, with its tremendously chunky and tail-meat-filled lobster rolls, isn't too far behind. If only they could bring down the cost: The six-inch specimen in the diagram above, which comes with fries and baby romaine lettuce, costs 26€, which exchanges to a whopping $34.
Whatever. We hear everyone's making the Ipswich-switch, to clam rolls, anyhow.
Paris Takes a Crack at Lobster Rolls [T/NYT]
Earlier: What to Eat at the Lobster Place, Now Serving Oyster Po' Boys and Beer in Chelsea Market
*No, we won't name names, just take a forensic spork to your lunch next time you get order a roll. The practice is widespread.