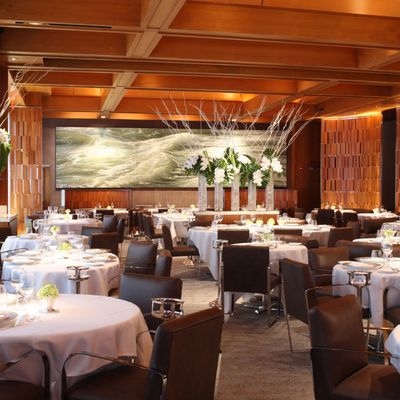 Like the big bang, but with more tuna tartare.
Photo: Melissa Hom
Huge news out of midtown this afternoon: Steve Cuozzo at the New York Post reports that Le Bernardin owner Maguy Le Coze and chef-owner Eric Ripert will expand the restaurant into two new spinoff spaces — a wine bar helmed by sommelier Aldo Sohm, and a voluminous private dining room — set to occupy 11,500 square feet in the bi-level space that was last home to Piano Due. This is the first significant expansion of the acclaimed restaurant since it opened in 1986, and explains all that abrupt restructuring that took place within Eric Ripert's restaurant empire last November.
Aldo Sohm Wine Bar is named for the restaurant's sommelier, who was called the"Best in New York" by New York in 2006. He's worked at Le Bernardin since 2007, and will manage a 200-bottle list at the new ground-level wine bar, which will also reportedly serve a light menu.
The second floor of the new space will be called Bernardin Privé, the Post reports. It will seat 200 guests. "We have always had tremendous demand for private rooms," the chef tells the paper.
There's no word yet on when the project will debut, but we'll keep you up to date with the details as we hear them.

Le Bernardin sets historic expansion [NYP]
Earlier: First Look at the Redone Le Bernardin, With Lounge Food
Eric Ripert Takes Name Off Westend Bistro in D.C., Hints at More NYC Projects