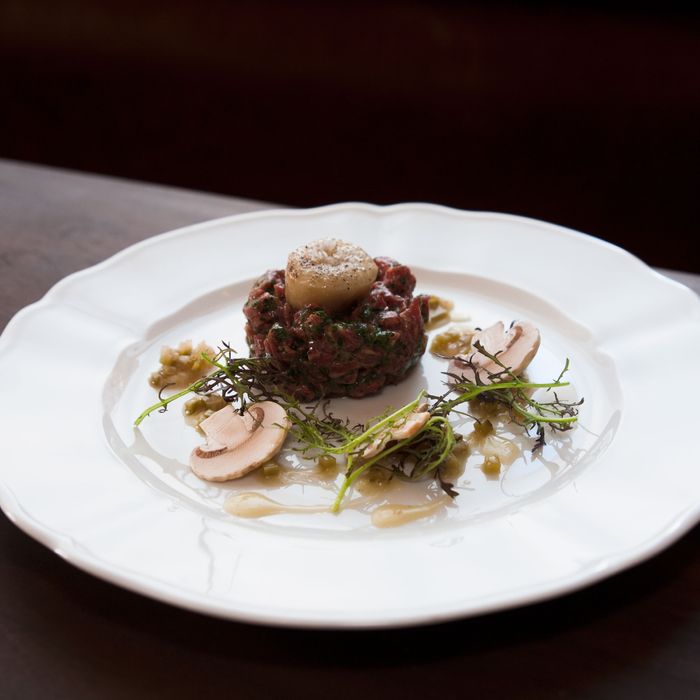 Beef tartare with poached marrow.
Photo: Erin Kennedy/New York Magazine
This week, New York got a first look inside Lafayette, the new French bistro blockbuster from Andrew Carmellini, Josh Pickard, and Luke Ostrom. As you'd expect from the team behind the Dutch and Locanda Verde, it's a very handsome space. And when it opens — dinner service is currently scheduled to start early next week, aiming for April 15 — Carmellini and chef de cuisine Damon Wise will offer modern takes on French classics: beef tartare with poached marrow, housemade ravioli au pistou, duck au poivre, and a roast chicken for two (for $44) among them. That's just the beginning: See everything that will be on offer — including beer, cocktails, and wines by the glass from Josh Nadel, and pastry from Jen Yee — straight ahead. Start your menu stalking now.
Lafayette Dinner Menu [PDF]
Lafayette Drinks Menu [PDF]
Lafayette Dessert Menu [PDF]
Earlier: Lafayette Opening Soon in the Former Chinatown Brasserie Space
Related: New York New Wave: The Manhattan Bistro Moves Beyond Balthazar