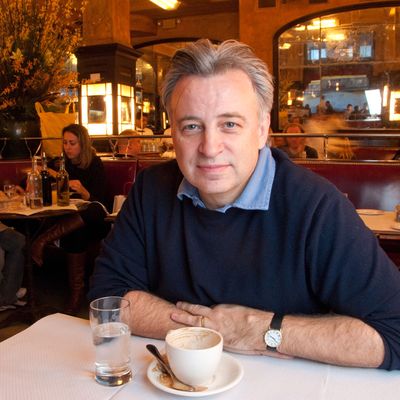 He's not too hapy with the critics.
Photo: James Hamilton
Balthazar London is up and running, and so is owner Keith McNally's temper. After critic Giles Coren weaselly described the newly opened bistro as "the best restaurant in London," and serving "the worst food in Europe," the restaurateur has circled back to his original retort with an all-inclusive, all-purpose dismissal of thousands of hapless industry professionals. "My pet hate is the London food and restaurant community which, with two notable exceptions," he tells the Independent, "is a petty, self-regarding, back-stabbing bunch of narcissists who should be put through a meat grinder and dumped into the Indian Ocean." Why don't you tell us how you really feel?
The paper's reporter asked for specifics, and as it turns out, McNally backed off a little. "Just an observation from someone new to the food scene here," he said, but later returned to Coren's review as a spurious attempt at trying to stir the pot, which it was. (Last month, McNally told Eater that Coren's associated takedown of New York's restaurant scene rang out as patently false as "Dick Van Dyke's cockney accent in Mary Poppins.")
Keith McNally is in part so successful because he vents like this; it's now firmly part of his mythology, and it makes him oddly endearing. Intentional or not, his rants and missives are like some strange, Darwinian evolutionary advantage he picked up somewhere along the way during his 30-something-year-long restaurant-owning career, which began with the opening of Odeon in 1980. Here's a pattern: An unjustly barbed critique or negative review prompts an inflammatory response from McNally, who uses the press or an open letter to subvert the critique and maintain a dominant position. Witness McNally vs. Bruni (2007) and McNally vs. Platt (2010), and McNally vs. Coren (2013). Others, like Jeffrey Chodorow, have been much less successful at biting back.
The Independent article is here, and it seems like a shift. Does the fact that McNally's trademark scorn now encompasses most of London's major food players mean the restaurateur now has way too much on his plate? We're sure to find out next week, when he inevitably lets someone else know what's really on his mind.
Toast of New York turns on his critics after new London restaurant gets a roasting [Independent UK]
Earlier: Keith McNally Responds After Critic Slams Balthazar London