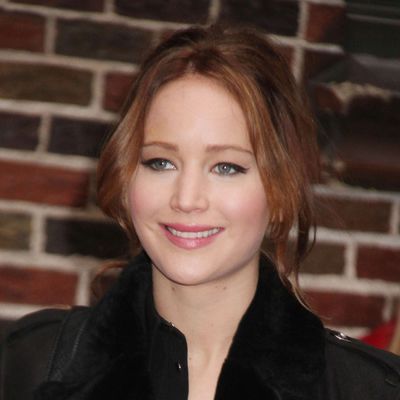 Italian food and cigarettes for this Oscar winner.
Photo: Nancy Kaszerman/ZumaPress/Corbis
Celebrities feasted in all forms this week — power-lunching, day-drinking, and fine-dining. Kevin Spacey ordered a round of shots at Hudson Common; J. Law smoked cigarettes outside of Bacaro; Jonah Hill "tried really hard to woo" his date at Joe's Shanghai; and Lady Gaga's hip was miraculously healed after ordering three twenty-ounce smoothies from Juice Generation. "Monstrous thirst" and more in our weekly guide to celebrity dining.
75 Main: Calvin Klein started this year's seasonal Long Island migration early. The designer stopped by the Southampton staple after hitting Cole's Greenwich Village with friends. [Page Six/NYP]
Bacaro: Jennifer Lawrence drank with a group of guys on Saturday night, and America's best friend was spotted smoking outside the Lower East Side Italian restaurant. There were no reports of her cigarette being particularly funny-looking. [Page Six/NYP]
Bagatelle: Michael Strahan, fiancée Nicole Murphy, and friends ordered lobster omelettes and pancake short-rib sandwiches, while day-drinking Moet Champagne and tequila at this meatpacking district restaurant. The group "sang and danced" until about 6 p.m., at which point we assume they all went home to take a nap. [NYDN]
Four Seasons Grill Room: David Koch, Wilbur Ross, and Leon Black conducted an unofficial billionaires' luncheon at the midtown east restaurant, dining at separate tables Monday afternoon. [Page Six/NYP]
The General: Alec Baldwin ventured to this Lower East Side sushi place for a birthday dinner with his wife Hilaria, daughter Ireland, and, of course, her modeling agent. [Page Six/NYP]
Dream Downtown: Jenny McCarthy "sexplored" the bar at this Chelsea hotel. She sipped vodka sodas, while reassuring fans her VH1 show has been signed for a second season. [NYDN]
Hudson Common: Kevin Spacey ordered a round of shots for friends at the Hell's Kitchen burger joint. We hope they paid it forward by ordering him duck fat fries. [NYDN]
Jazzy's: Jeremy Irons must have worked up an appetite discussing gay marriage. The English actor was spotted in the Soho deli. [Grub Street]
Joe's Shanghai: Jonah Hill went on a disastrous date with a brunette at Chinatown's soup dumpling den. Midway through the meal, a fan leaned over to say he'd buried his father earlier that morning, but was mostly happy to have met Jonah. You win some, you lose some? [Page Six/NYP]
Juice Generation: Lady Gaga is recovering, little monsters. The injured star stopped at the smoothie spot for "Protein Buzz," "Daily Detox," and "Mr. Greengenes." Apparently blended whey, protein, berries, and almond milk are a panacea for hip pain — mother monster was later spotted on her way to Bikram yoga … in heels. [NYDN]
Orso: Edward Norton and Michael Keaton picked this Hell's Kitchen Italian spot to discuss their upcoming film Birdman with director Alejandro González Iñárritu. [Page Six/NYP]
Philippe Chow: Patrick Ewing dunked dumplings in soy sauce with Amar'e Stoudemire at Nicki Minaj's go-to Chinese spot. [Page Six/NYP]