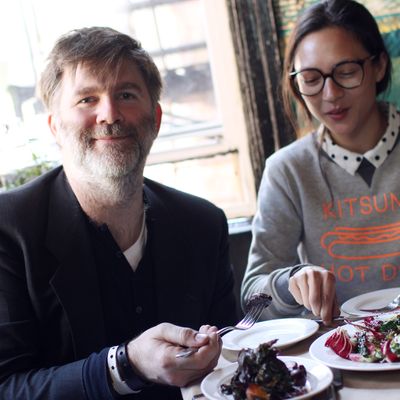 Murphy, and girlfriend Christina Topsøe, at the Spotted Pig.
Photo: Melissa Hom
Growing up, James Murphy — of DFA Records and the recently disbanded (and much-loved) LCD Soundsystem — was not allowed in the kitchen. "My mother was just like, Get out of here!" he laments. "Then when I moved to New York I'd have to call her to ask her how to make things like a boiled egg." These days he's moved beyond egg boiling, trying his hand in the culinary world: Not only does he try to cook daily with his girlfriend, Christina Topsøe, but on April 29 he'll also team up with Mission Chinese Food chef Danny Bowien to kick off the LuckyRice Asian food festival and co-host Bombay Sapphire East's Cocktail Dumpling Party. But first, see how a food-loving rock star with a penchant for coffee feasts and interesting Champagne makes it through this week's Grub Street Diet.
Friday, April 12
Started the day with two cappuccinos and juice. I'll make a juice for the morning, which is the kind of juice I have every day: apples, celery, pineapple, chili, ginger, berries, and citrus — whatever looks good. Then I make a second juice, and that usually will be heartier, more kale and beets and stuff like that, and I'll put that in a glass bottle and have that later on. Cleaning the machine's a pain, so might as well knock out a couple juices.
Lunch was leftovers from Thai food from Thursday night's excursion to Sripraphai in Woodside. Delicious.
Dinner was on a plane: A sad shrimp cocktail, "salad," and a mass of fused ravioli in red barf on the AA flight from JFK to Austin, the horror only slightly mitigated by the cookies n' cream ice cream, which further engendered my raging self-hate, transitioning to an entirely different mode of loathing, from the I guess I deserve this feeling caused by scarfing down the savory portion of the meal to the I am a fat nightmare of the sweets.
Backstage at my D.J. gig I had pita chips and Vazart-Coquart & Fils Champagne. On my rider I just ask for small-producer quality Champagne if it's possible. Because there are so many interesting Champagnes out there, I don't want people to be dogmatic. If you like wine, get me something interesting. Because when you find somebody also into that, it's really fun for them to pick something out, and it's fun for me as well, and they might not be having that conversation normally with people they work with in music.
 
I avoided eating the cookies backstage.
My post-gig meal was at Magnolia. It's a classic after-gig, 24-hour place. I had pancakes with syrup and eggs on a chili corn-bread cake. Way too much food way too late at night.
Saturday, April 13
I had a cappuccino at Jo's in Austin, which was near my hotel.
Then a mediocre cheese plate and hummus with rosé at San Jose hotel for what constitutes a late "brunch" with master novelist Sam Lipsyte, who happens to be in Austin at the same time for a lit thing. I've known him for 22 or 23 years, since he was in a band called Dungbeetle. We had coffee too. None of it was particularly good.
Dinner was at Uchiko, recommended by Dave Chang. Actually, he recommended Uchi, but I couldn't get in because it was too late notice, and too small. But at Uchiko I walked up and was able to get a place at the sushi bar. I was with my friend Jill, and I got the omakase, and at the end I asked for individual pieces.
The dinner was good. Not to be nitpicky, but there were a couple of times that the nori was rubbery, which means it sat too long. I didn't think that would happen at a sushi bar, but I was getting things from different stations at the sushi bar. But it was good. Jill really loved it, and I got a lot of tasty stuff. But that to me was like, Wow, that I would not have expected at such a vaunted spot.
Then I went and D.J.-ed another event and drank Champagne again. Then passed out. Classic.
Sunday, April 14
Cappuccino at Jo's.
On the plane home: warm-esqe nuts, sweaty chicken salad, and a pretzel roll. The pretzel roll is my weakness. It's like a warm roll and a pretzel. Together. With butter. Let me know if you hear what I'm saying.
Dinner was home cooking together for a bunch of friends we hadn't seen in a long time.
I do a couple of different things when I'm trying to see friends: I like having a dinner party — we want to do more of that. We also do something that I call a "culling," like a wine fridge culling. I have these really cheap, really shitty wine fridges that get full because they're not big. And I get excited about new things as they come in, so I need to purge the old. So I'll have a culling party, where I'll invite friends over and they're not supposed to bring wine. I mean, they can bring one thing if they're really excited, but the idea is that they bring charcuterie and bread and snacks and real food. And then we just hang out and drink wine and chat and see each other. It's very social.
That night we had a haul: bresaola from Eataly; Game of Thrones pâté from the Meat Hook (seriously, guys?); pork rilletes from Marlow and Daughters; great bread made by our French friend Roxanne; some baguette; sautéed peanuts with rosemary and garlic; chickpeas and rice pilaf; lamb meatballs in a Moroccan sauce (homemade meatballs, in the mixer attachment — my first time); chicken sausages; spicy pork sausage; shaved-carrot salad; arugula and radish salad with Parmesan and avocado; and peach pie and citrus tart, brought to us by our friends Starrett and Petter (the pie) and Scott (the tart. Well … he's not the tart … oh, you get it.)
There were also about twelve bottles of wine. There were about twelve people, so it was approximately a bottle each. I would hesitate to say I'm super into wine, because I know people who are way more knowledgeable.
Also, I can't drink hard liquor at the moment. I have the gout. Hard liquor is really bad. A lot of my diet is not so good for the gout.
Monday, April 15
I'm a coffee person. I was a pretty big coffee nerd in the early nineties, then got away from it because I just couldn't afford it. I'm currently working on a roast with Blue Bottle for my upcoming House of Good line with Christina, so at the moment I'm drinking a lot of Blue Bottle roasts, but I also drink other people's coffees to see what is up. Right now I have five different beans at home, and I can make either espresso or a pour-over or a French press or an Aeropress, depending on a mood.
Breakfast was a cappuccino at home, with the Blue Bottle Retrofit (a new roast I'm experimenting with), and leftover peanut thing from last night. Also a ginger fireball from Juice Press. It's a little tiny shot of ginger. I always feel like it's good for my immune system.
I spent the day in the recording studio and the doctor's office because I think I tore a ligament in my wrist, so we'll see.
Dinner with my girlfriend and my old manager Keith. I was in the Union Square area and walked by 15 East and realized that I had wanted to go there and had not gone yet. It was delicious. The soba was amazing, and it's a hard thing to get, I think. But I also want to go back and do an omakase because it's such a different experience.
Tuesday, April 16
Cappuccino at home: Coffee Collective espresso blend from Copenhagen.


Homemade juice of pear, green apple, red apple, celery, mint, ginger, bird's-eye chili, orange, lime, lemon, and Meyer lemon.
I just got a NutriBullett, which was a gift from Aziz Ansari. He'd asked me about getting a juicer when he was going on tour, and he came over and we made juice on my classic Breville juicer, with the big mouth. I was suggesting that one, but because he was on a tour bus, he wanted a NutriBullet because it takes up less space. It makes a different product, though, more like a smoothie. He sent one to me, and was like, You gotta get this, dude! So sometimes the second juice of the day is made in that. Sometimes I make two juices and a NutriBullet. That's what's up.

Lunch was deviled egg, olives, fried duck egg, lardons, frisée, and beets at the Spotted Pig. I tend to go there when I have a bunch of people and we want to go out to dinner. Lunch was more laid-back.
Dinner was at Acme, because I'd never been there. I used to play gigs in the old Acme, but it was not a place I thought about for food. Everything was amazing — the chilled pea soup, the mackerel tart with black truffle, the warm kale salad — everything. And we ordered a lot, because there were four of us. The chef came out and was really sweet. In the act of shaking my friend's hand, they, together, knocked a glass of red wine into my friend's lap. The poor chef was horrified, but it was fine.

Wednesday, April 17
Normal morning coffee stuff. Cappuccino at home: Blue Bottle Retrofit.
Homemade morning juice of McIntosh apple, celery, pear, bird's-eye chilies, Valencia oranges, Meyer lemon, lime, ginger.

 Then homemade smoothie of spinach, avocado, raspberries, pineapple, orange, flax seeds, chia seeds, and maca powder.
Leftovers from Sunday's homemade dinner: lamb meatballs, sausage, salad, rice, chickpeas with an egg.
Because of the tour, I've not been cooking much at all. My girlfriend cooks much better than me, and I'd help — I'm the sous chef in the kitchen. She's probably most comfortable cooking Chinese, but we just try to have fun.
She's much more intuitive and has a better palate, but I'm blindly confident. I'll be like, "Let's make this!" And she'll be like, "That's from the Noma cookbook; that's like three days of prep." I'm like, "Oh, I'll go forage!" It's kind of like that.
Wednesday night, I went to a Knicks game. I've been to three Knicks games in my life, and they're totally exciting. And we went all out: gin-and-tonic, a hot dog with mustard, a box of popcorn, two beers, a cupcake, and sundry snacks. And afterward, we took a train back to Brooklyn and had an after-game drink of Agnès and René Mosse Moussamoussettes rosé at the Wythe Hotel, then an Armagnac at Kinfolk.
I came home drunk and passed out. Classic.