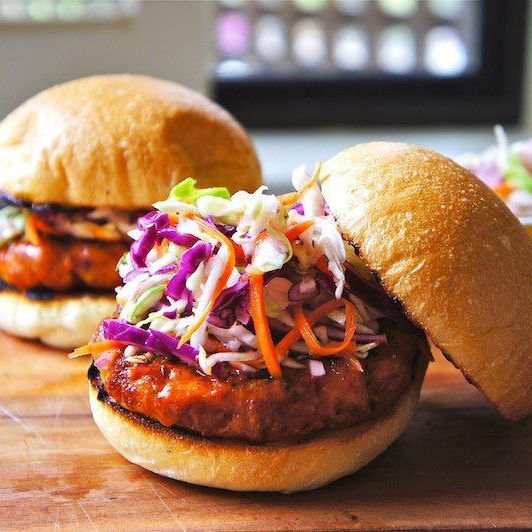 Deviant Chef is making umami burgers.
Photo: Courtesy of Hester Nights
Thursday happy hour is about to get a lot more exciting. Starting on May 2, Hotel Eventi will host the Hester Nights outdoor food festival every Thursday from 5 to 10 p.m. through September 26. It's still the only nighttime market in Manhattan, and you'll find food vendors, beer, cocktails, film screenings, and live music performances (in June, Hester Nights is partnering with the Blue Note Jazz Festival). Newcomer Khao Man Gai, which sold out during its Hester Street Fair debut on Saturday, is one of the vendors. Check out the full list, straight ahead.
Newcomers:
Khao Man Gai NY will serve popular Thai street fare, like a dish of slowly poached chicken with garlic and ginger.
Deviant Chef will offer umami burgers made from 100 percent organic grass-fed beef, which is mixed with miso, soy, and scallions. There's also a signature Schezwan Mabo Burger: Berkshire pork mixed with black beans, Gochujang, and scallions.
Foodfreaks Banh Mi's doing a twist on the traditional Vietnamese sandwich.
Ludlow Pizza will debut made-to-order wood-fired pies.
Oldies (But Goodies!):
La Newyorkina will be there with artisanal ice pops.
OKO-TA's serving savory Japanese griddle cakes.
Good Eats to Go's making its gluten-free, gourmet macaroni and cheese.
Jessy's Pastries will sell Peruvian empanadas and alfajories.
Dreamscoops is making ice cream.
Oaxaca Taqueria is cooking Southwest Mexican–inspired food.
Lizzmonade's making freshly squeezed juices.
Cake Bites NYC will sell vegan and gluten-free cake truffles.
Hotel Eventi Open Air Plaza, 851 Sixth Ave., btw. 29th and 30th Streets