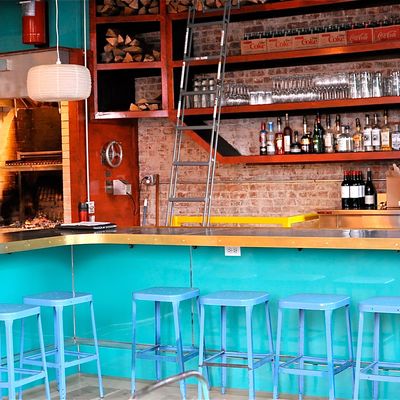 Owner Michael Jacober says he wanted to open an "all-American" sandwich shop.
Photo: Hugh Merwin
We brought it up first last fall, and now Morris Grilled Cheese owner Michael Jacober and chefs Chris Austin and Nick Curtola will finally open Glady's at 788 Franklin Avenue this Friday. The centerpiece of the kitchen is a massive wood-fired grill with an integrated rotisserie; a mix of hardwood and dried Cabernet Franc vines will be used to smoke the meats all day long, and grilled cheese sandwiches will actually be grilled over an open flame. But that's not all.
"I wanted to evoke an all-American sandwich shop," Jacober says, mentioning that he was once a regular at Dewey Dufresne's pioneering Joe's in Providence, Rhode Island. "It's most important to me for this to be a real neighborhood spot."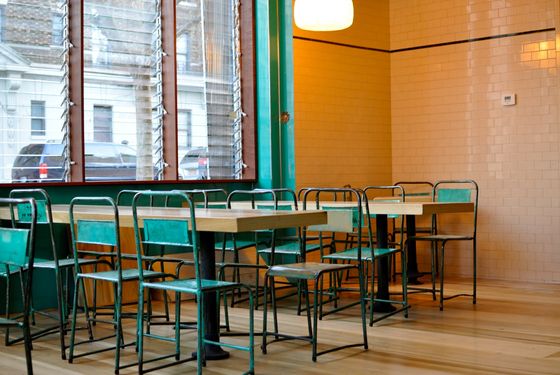 The dining room has 28 seats, with aother eight at the bar.Photo: Hugh Merwin

Curtola, who cooked at Franny's, Roman's, and even at Noma, explains that most everything on the menu involves one or more components made from scratch. The restaurant canned its own tomatoes, for example, and is making its own ricotta and charcuterie (including testa and morcilla).
Bar snacks include house chicharrones dusted with crushed fennel seeds, fennel pollen, chiles, and lemon zest. Sandwiches include one made with dried and salted dorade in the style of brandade, served with Windsordale cheese and charred onion. The pork knuckle sandwich starts with meat pulled from a slow-cooked shank, and is layered with housemade apple butter and agrodolce cippolini onions. Larger format entrees include half a brined and roasted chicken served with arugula, lemon, and jus. The restaurant will also serve pork loin with coal-roasted vegetables and maple mascarpone.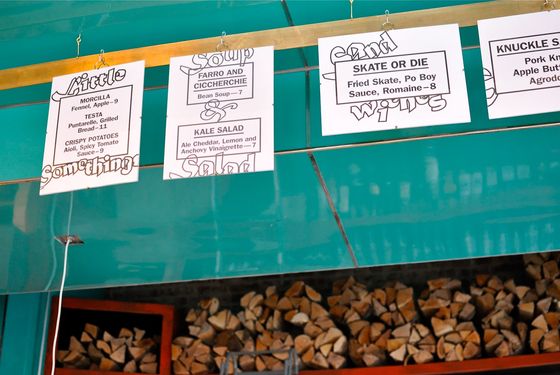 The sandwich menu will change frequently.Photo: Hugh Merwin

Glady's will feature an ever-changing roster of ice creams, including a chocolate flavor mixed with crushed speculoos cookies and then served with torched, housemade (of course) marshmallow fluff. Bartender Graham Files has put together a list of straightforward cocktails, including Planter's Punch, but the restaurant is also barrel-aging Negronis and is even bottling what Jacober calls "boozy sodas." The house ginger beer will be put to good use in a drink called the Darker and Stormier, which includes dark rum, some fizz, and a scoop of housemade lime sherbet.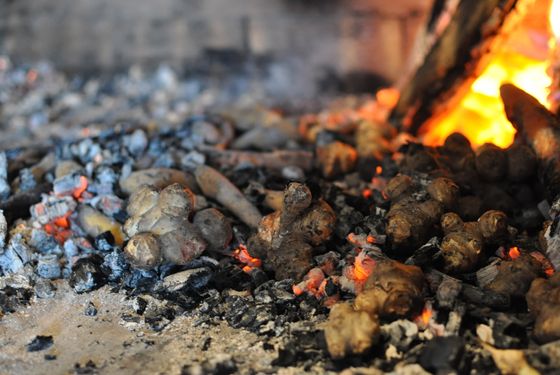 Sunchokes and other vegetables roasting in hot coals.Photo: Hugh Merwin

The restaurant will open for dinner only for its first eight weeks or so, but then will add breakfast, lunch, and brunch hours. While its lineup and daily specials will change constantly, you can check out the opening menu below.
Opening Menu [PDF]
Glady's, 788 Franklin Ave., at Lincoln Pl., Crown Heights; 718-622-0249