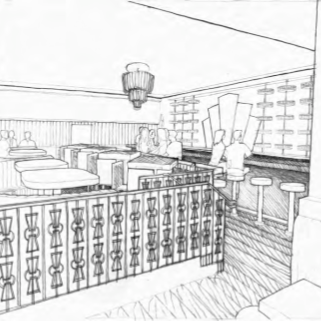 Photo: Courtesy of Golden Cadillac
EV Grieve notes that veteran barmen Giuseppe Gonzalez and James Tune are teaming up with Cocktail Kingdom's Gregory Boehm* to open the long-in-the-works Golden Cadillac at 13 First Avenue, former home to the very affordable Latin and South American Boca Chica, which closed in February after 23 years in business. The partners have been developing the concept — described as a tribute to New York's cocktail culture and evocative of Volpe's Bar in Mean Streets — since 2011, and will present their plan at Monday's CB3 Manhattan meeting in a bid to score a liquor license.
The lineup is stellar: Tune is the manager at Pegu Club, and Gonzalez has worked everywhere from Clover Club to Dutch Kills to PKNY. Managing partner Gregory Boehm is the owner of Cocktail Kingdom, a specialty purveyor of equipments, tools, and recipe books.
*This post has been corrected to show that the chef Fran Derby is not affiliated with Golden Cadillac.
Boca Chica apparently won't be reopening on First Avenue, and the return of Golden Cadillac [EV Grieve]