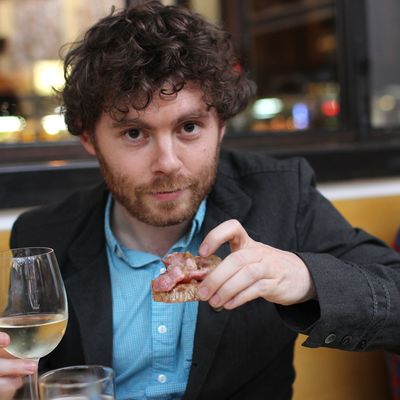 Kahane, at Franny's for the second time in one week.
Photo: Melissa Hom
Composer and singer-songwriter Gabriel Kahane is a special variety of food-loving musician: His official bio mentions his predilection for braising hunks of meat. Even when on tour, he admits that "the second most important thing after the music is the food." He spent the past week preparing for the premiere of his new song cycle called Gabriel's Guide to the 48 States, which he'll perform with the Orpheus Chamber Orchestra at Carnegie Hall on April 27. In between practice sessions, he managed to make time for pizza from Franny's, asparagus with uni at Il Buco, an impromptu lunch at the John Dory Oyster Bar, and lots, lots more. Read it all in this week's Grub Street Diet.
Friday April 5


I woke up at six to go to Penn Station to meet my friend [composer and pianist] Timo Andres, with whom I was going to D.C. to play a concert at the Library of Congress. I had a Krispy Kreme doughnut and regular coffee at the train station. Breakfast of champions. Lunch was at Union Station in D.C. at Pret a Manger, where I had a bánh mì, which was fine. When we finished sound-checking at the Library of Congress, we were inexplicably given what appeared to be Christmas cookies, which was awesome. They were frosted and quite delicious.
After the concert, we shuffled over to a wine bar called Sonoma, where I had a pretty decent market salad with radish, snap peas, fennel, and microgreens, and an even-more-all-right, perhaps even righteous, burger with bacon and Cheddar. Dessert was chocolate espresso panna cotta and Laphroiag single malt Scotch. Incidentally, my friend Amanda was disgusted by my dipping my fingers into a glass of water in order to open up the Scotch, as is convention.
Saturday, April 6


Through a bizarre and, for me, unprecedented screw-up with Priceline, Timo and I were shuffled after midnight from the hotel where we thought we were staying to this peculiar and ancient Irish-y themed hotel, where we ate breakfast at the pub: French toast, bacon, coffee — dull but effective. Then we took the train back to Penn Station.
Timo and I were quite hungry when we got there and decided we'd splurge and go to the John Dory Oyster Bar, where we had a dozen oysters, Parker House rolls, bay scallop crudo, chorizo-stuffed squid, and char paté sliders. It was awesome; it was Timo's first time there. So that was delightful.
Actually, while I was feeling incredibly hungry on the train, I made an OpenTable reservation for dinner at Il Buco Alimentari. I went home and rested for a few hours, and then my girlfriend Emma and I went to Il Buco, where we had a pretty smashing meal. It began with assorted salumi, which was amazing, being the porky Jew that I am. We had grilled asparagus with uni and watermelon radish, which was kind of out of this world, an appetizer of quail with fresh chickpeas and gem lettuces — pretty spectacular, and the chickpeas were green. You don't see that every day.
Roasted gnocchi with mushrooms and then porchetta with English peas, sugar snap peas, and tendrils, which was quite delicious. For dessert, we had three gelati: mint with cocoa nibs, vanilla, and salted caramel. And we had a really amazing white wine. It was a pretty insane day.
Sunday, April 7


We had a few days earlier made spaghetti and meatballs at home and there were some leftovers. Emma makes really incredible frittatas and very lovingly on a Sunday morning made me a spaghetti and meatball frittata. There was coffee, too. There are three variations on coffee for me, usually: one is Bialetti stovetop.
It was my one day with no obligations, so I basically just practiced the WPA piece for most of the day and ate when I wasn't practicing. I may also have watched a couple of episodes of Community, with which I've recently become obsessed. I'm starting from the beginning.
Lunch was a porchetta sandwich made with leftovers from the massive piece of pig we had the previous night, with a baguette from our local bougie market, which is called Market. Basically just meat on bread with olive oil. Delcious.
For dinner, I made this chickpea pasta with chiles and garlic and olive oil. It's sort of modeled after a recipe by Tamar Adler, from her book, An Everlasting Meal. She's pretty rad, and a dear friend, and the sister of John Adler, the chef of Franny's. She's taught me a lot about cooking, and this pasta is one of my favorite things; it comes from this notion you can make really great food from a bodega if you had to. Simple and delicious. Then we had asparagus and a simple green salad with anchovy vinaigrette.



Monday, April 8


Monday was a bizarre eating day. I had coffee at home in the morning, and some of the leftover chickpea pasta, which I was too lazy or stressed out to heat up. It was cold, but nevertheless good.
I had a meeting with an agent at WME in the city and then had some time to kill before the Orpheus gala that night, so I went to the Time Warner Center and had the chicken and dumpling soup at Bouchon, which is a favorite of mine, in part because of the stock, which apparently they supplement with beef shin.
I went to the gala. I was just kind of there as composer in residence, talking to some of the Young Orpheus donors. After that I ran over to Franny's to make their first service of the reopened restaurant; it's one of my home turf restaurants, so I wanted to be present for the opening. I had butter beans in olive oil; pea shoots with lemon and pecorino; crostino with Swiss chard, ricotta, and nettles; cavatelli with spicy pork sausage and ricotta; and flowering greens pizza with garlic, chiles, and pecorino — flowering greens just being a kind of green vegetable.
Tuesday, April 9


It was an incredibly beautiful day, so I went out on my bike up to South Slope to go to Southside Coffee and had multiple cappuccinos, because they were really delicious, and played the iPhone game Letterpress, a dangerous habit passed on to me by Timo in D.C. I'm now horribly addicted and it's ruining my life.
I came home and finished the pizza from the night before; a strange breakfast, but whatever. Practiced for a while, did a few phone interviews for the Orpheus project, and then went to the Farm on Adderley for lunch: quiche with bacon and Swiss chard and mixed greens.
At night, I was going to see Chris Thile and Brad Mehldau at the Bowery Ballroom, and on the way went to Vanessa's Dumplings, which I realize is a horrible highbrow/lowbrow cliche. But I had pork and chive dumplings, sesame pancake with roast pork, seaweed salad, and spicy and sour cucumbers.
At the concert, I definitely had a Maker's Mark. I tend to put a lot of emphasis on dinner, and occasionally on lunch when I have the time to do so, but I guess I'm more of a meal person than a snacking person.
Wednesday, April 10


I had a cappuccino from Qathra, the local coffee shop, and a plain old croissant.
For lunch, I made cacio e pepe, in this ongoing pursuit to perfect cacio e pepe; it's a really challenging pan sauce, trying to balance the fat and the pasta water. And it went relatively okay!
I met with the designer who's doing the illustrations for the slides for the Orpheus piece; there are some projections that sort of guide the audience through the piece, it being a tour of the country, so it has a little bit of the flavor of a middle school social studies lecture. So he was showing me his drawings and I played through most of the piece for him.
I had a meeting in the city, then came back to go to Franny's a second time, where I met the aforementioned Tamar. I had another delightful meal, beginning with a repeat of the pea shoots; crostino of pancetta and this kind of bitter orange jam; and shrimp with potatoes, saffron, and mayonnaise; then slow-roasted leeks with sardines, pine nuts, and olives; and a meatball pizza. I had a glass of Arneis and then Aglianico. That was dinner, and I only ate half of the meatball pizza. I over-ordered with the intention of eating Franny's pizza for breakfast, which is one of my favorite pastimes. I'm all about the leftovers.