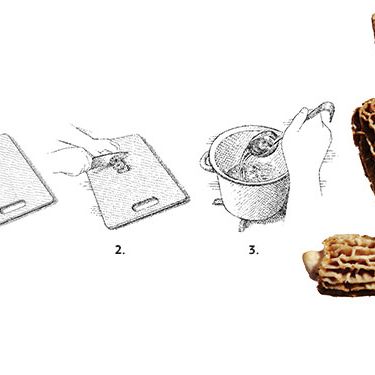 Photo: Victor Prado/New York Magazine; Illustrations by John Burgoyne.
Weird and wonderful morel mushrooms make their wrinkly, spongy, otherworldly appearance in April and stick around until July, when, for all we know, they file onto a spaceship to head back to the planet whence they came. Their flavor is deep and nutty and not unlike their truffle cousins, but their texture is pleasantly chewy; in short, they're among the most highly prized edible fungi out there, and priced accordingly. Sauté them in butter, scramble them with eggs, or try some in this risotto recipe from Café Cluny chef Phillip Kirschen-Clark.
Phillip Kirschen-Clark's Morel Risotto
2 cups dried shiitake mushrooms
1 cup fresh morels
3 tbs. finely minced shallots
3 tbs. thinly sliced garlic
3 tbs. extra-virgin olive oil, plus more to finish
Salt to taste
4 tbs. butter
2 cups Carnaroli rice
1/2 cup white wine
1 lemon, zest and juice
1/4 cup grana Padano
1/4 cup heavy cream, whipped to medium peaks
4 poached eggs
Fresh horseradish to taste
Place the dried shiitakes in a 2-quart container, and cover with hot water to make a stock. Place plastic wrap on the surface of the water to submerge the shiitakes, and allow them to sit at room temperature for 1 hour. Strain and reserve the mushrooms for another purpose. (1) Trim away the morel stems and discard. Wash the morels in several changes of cold water. (2) Slice the morels into 1/4-inch rings. In a heavy-bottomed 4-quart pot over low heat, sauté the shallots and garlic in the olive oil, season with salt, and cook until translucent. Add the morels and 1 tablespoon of the butter. Sauté for about 2 minutes, but don't allow the garlic or shallots to brown. Add the rice and a bit more salt. Stir until the rice is lightly golden and smells toasty, approximately 3 minutes. Raise the heat to high, and add the wine, stirring constantly. Cook until all the wine has been absorbed, approximately 2 minutes. (3) Add enough of the mushroom stock to cover the rice by 1/2 inch. Turn the heat down to medium, and stir constantly until the rice is al dente, approximately 20 minutes. Remove from heat, and grate the lemon zest and cheese into the risotto. Squeeze in the lemon juice, and stir in with the rest of the butter. Check the seasoning, and add salt if necessary. Right before serving, lightly stir the whipped cream into the risotto to give a marbled appearance. Divide the risotto evenly into 4 bowls. Place a poached egg on top of each serving, and grate a little fresh horseradish on top. Drizzle with a bit more olive oil. Serves 4.
*This article originally appeared in the April 29, 2013 issue of New York Magazine.