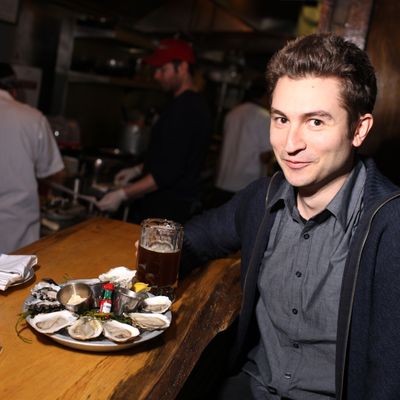 More recognition for Alex Stupak.
Photo: Melissa Hom
More awards! As she does every year around this time, Food & Wine editor-in-chief Dana Cowin spent yesterday tweeting cryptic clues about this year's batch of the magazine's Best New Chef award winners. Good news for people who couldn't decipher them all: Today the magazine is just announcing the names — so much simpler! So who got the nod for 2013?
Here they are:
Danny Bowien, Mission Chinese Food, New York, N.Y.
Justin Cogley, Aubergine, Carmel, C.A.
José Enrique, José Enrique, San Juan, P.R.
Matthew Gaudet, West Bridge, Boston, M.A.
Jamie Malone, Sea Change, Minneapolis, M.N.
Chris Shepherd, Underbelly, Houston, T.X.
Alex Stupak, Empellón Cocina, New York, N.Y.
Andy Ticer & Michael Hudman, Andrew Michael Italian Kitchen, Memphis, T.N.
Jason Vincent, Nightwood, Chicago, I.L.
Michael Voltaggio, Ink, Los Angeles, C.A.
Congrats to all — they're in very good company. In fact, there's a big party in New York tonight that will feature food from past winners like Wylie Dufresne, Grant Achatz, April Bloomfield, and Dan Kluger.
Best New Chefs [Food & Wine]
Earlier: Here are Your Time Out New York Food & Drink Award Winners