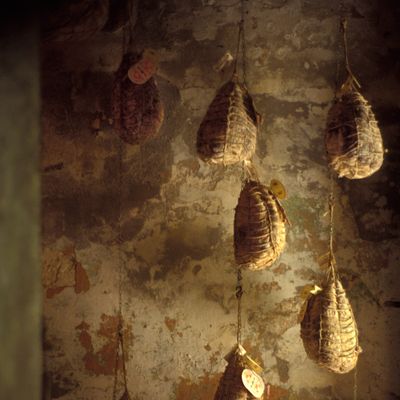 What you've been missing: Culatello di Zibello, just hanging out in Parma.
Photo: Bob Sacha/Corbis
Last week, the Animal and Plant Health Inspection Service released its long-awaited determination on Swine Vesicular Disease Status of Certain Regions in Italy. Bottom line, according to food writer Jonathan Gold: You're about to get more ham.
The "long-standing FDA ban on the import of Italian cured meats will be lifted starting May 28," Gold reports in the L.A. Times , quoting a report issued by Italian news agency ANSA, which is already suitably jazzed about the 250 million in euros to be had in export sales.
The implication is that several dozen cured regional cured pork products, which count as raw meat, will now be available for export to the United States, but the agency position is a little more complicated. Here's the official statement:
We are advising the public that we have determined that the Italian Regions of Lombardia, Emilia-Romagna, Veneto, and Piemonte and the autonomous provinces of Trento and Bolzano are free of swine vesicular disease. Based on an assessment of the animal health status of these areas, which we made available to the public for review and comment through a previous notice of availability, the Administrator has determined that the importation of pork or pork products from these areas presents a low risk of introducing swine vesicular disease into the United States. This determination is based on our review of the documentation submitted by the Government of Italy in support of its request and the findings of our own animal health risk evaluation.
Some background: For a long time, only signed and sealed prosciuttos and salumi from USDA-inspected facilities in Italy were able to clear customs, in part owing to the potential threat of swine vesicular disease, which no one wants with their salumi. Because the last reported case of the the virus was more than nine months ago, some suggest all of Italy should be considered officially free of SWD. However, the agency will only preliminarily get onboard with salumi produced in the regions stated above (plus a few others), and it seems that the FDA will still impose a series of conditional restrictions and selective bans.
There's a multiverse of cured pork products out there, from salamis and coppas made from specific pig breeds to different kinds of ham produced from pigs raised on hyper-regional and traditional diets. The shift in APHIS position is good news for lardo fans and means we're closer than ever to getting access to Italy's smaller producers, who are no doubt psyched by this announcement. But it doesn't seem like we're going to be getting nonstop deliveries of bresaolas and culatello, at least not yet. We've reached out to the FDA for comment and will keep you updated as we hear back.
Is FDA lifting its ban on Italian cured meats? [Daily Dish/LA Times]
Ban lifted on Italian salami imports to U.S. [ANSA]
Swine Vesicular Disease Status of Certain Regions in Italy; Determinations [Regulations.gov]