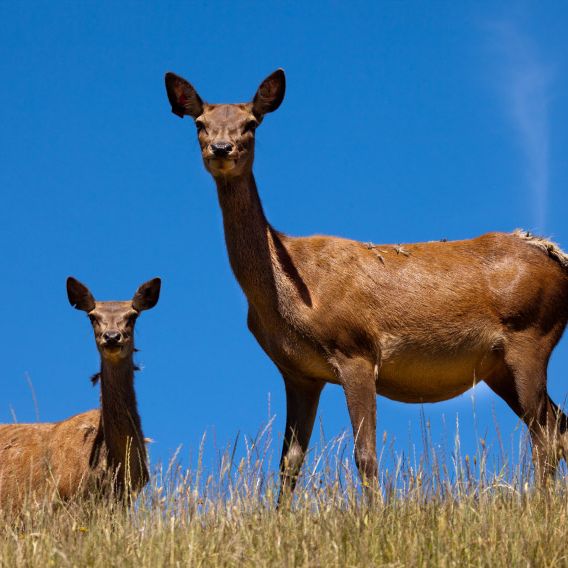 When Bambi met Murray's.
Photo: iStockphoto
Remember that great story from December, in which the dairy-smitten Serbian professional tennis champion Novak Djokovic had reportedly purchased the world's entire inventory of a precious (and pricey) kind of Serbian donkey milk cheese called pule, which was all pretty wonderful until it was revealed that a Daily Mail journalist stretched the story way out and Djokovic had in fact only received a courtesy sample of the stuff and hadn't even bothered to call back the donkey milk people, who were no doubt waiting anxiously by the phone for their big break? A million donkeys cried that day, and significantly fewer noted yet another blow to professional ethics. But now there's good news! That fake story has now inspired scientists and a cheesemaker from Oamaru, New Zealand, to start producing cheese from farmed red deer's milk. Deer cheese!

University of Otago Food Science Department lecturer Alaa El-Din Ahmed Bekhit says he saw the Djokovic-donkey-cheese news and thought, I could do this. He got together with some other like-minded thinkers and they sent some deer milk to a cheesemaker in Oamaru. There's no word on how the newly finished sample blocks taste, but they're now being aged for six months and will be auctioned off for charity. They are, however, apparently filled with immuno-boosting compounds and "bioactives," which may be good for you. We hope these deer cheese people take PayPal.
Farmed red deer milk goes for around $84 a liter, according to the scientists. Because each animal may produce up to 200 liters a season, the burgeoning New Zealand deer cheese scene could mean big bucks, in more ways than one.
Deer milk cheese offers health benefits [Stuff.co.nz]
Earlier: Novak Djokovic Now Controls the World's Supply of Precious Donkey Cheese
Earlier: Novak Djokovic Does Not Actually Own Any Precious Donkey Cheese