Move over, lady who distilled her entire résumé in that six-second Vine video (also: congrats on the new job), because now it's time to make some room for the guy who resigned via buttercream and icing. Baker Chris Holmes, who'd once put in time with Gordon Ramsay, had been working for the U.K. Border Agency at Stansted Airport. But right around his 31st birthday, Holmes decided it was time for a change, so he baked his bosses a friendly resignation cake, which regretfully (and tastefully) informed upper management of his decision. Take this job and slice it! Some wonderful piping skill and the full sentiment, straight ahead.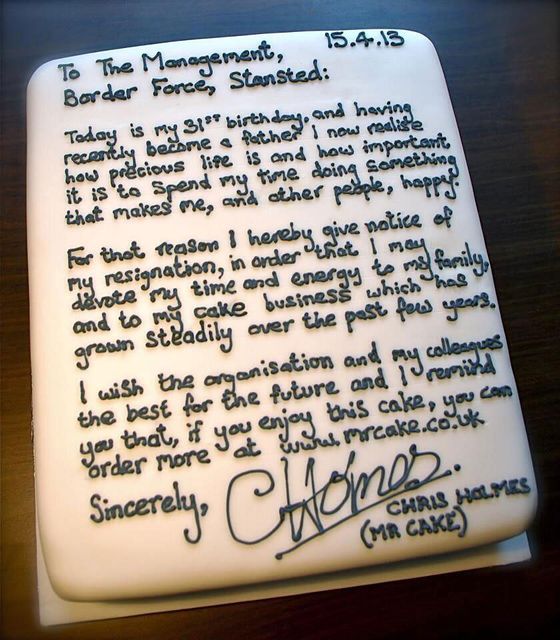 Hope there's some chocolate layering in there.Photo: Courtesy of Stuart Jackson/Twitter

Here's the full text in icing:
"Having recently become a father I now realise how precious life is and how important it is to spend my time doing something that makes me and other people happy," said his message on the cake.

"For that reason I hereby give notice of my resignation, in order that I may devote my time and energy to my family, and to my cake business which has grown steadily over the past few years.

I wish the organisation and my colleagues the best for the future and I remind you that, if you enjoy this cake, you can order more at www.mrcake.co.uk.

Sincerely, Chis Holmes (Mr. Cake)"

Incredibly effective advertising — short and sweet. We hope Mr. Cake's icing hand has had some time to decompress, because he's probably about to get really busy with the buttercream.
Say it in icing: Border Agency official quits job at Stansted Airport with 'resignation cake' [Standard]