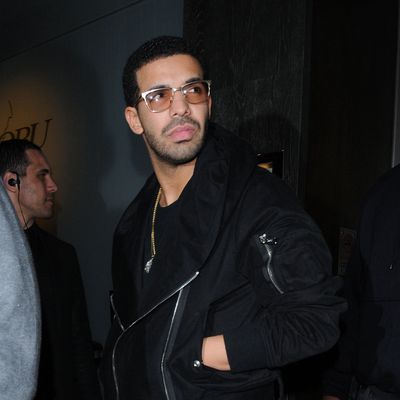 Drake needs an entourage to protect him from Amanda Bynes.
Photo: Gotcha Images / Splash News
Celebrities spiraled out of control this week: Christine Quinn cemented her loud-mouth reputation, yelling at Il Buoco Alimentari; Richard Gere flirted with Miss Universe at Cipriani; Amanda Bynes crawled out of her parlor room in hell to "wander" around Marquee; and Drake brought an entourage of twenty to SL for protection. This, and more, in our roundup of celebrity dining.

Catch: Michael Jordan and Patrick Ewing met friends for dinner, and MJ proved he is still a champion — by devouring a red snapper dish for two. [NYDN]
Cipriani: Richard Gere left wife Carey Lowell at home and spent Tuesday night's City Harvest Gala flirting with Miss Universe and Elizabeth Olsen. Anything for a good cause? [NYDN]
Cherry: Major Lazer's Jillionaire dined with Diplo before a surprise D.J. set at PH-D. [Page Six/NYP]
Dean & Deluca: Meg Ryan carried bags from the gourmet deli, generating the Daily News pun: "Meg-a-Bites." [NYDN]
Forty Four: Michael Bay grabbed a croissant at the Royalton, transforming the hotel lounge into a breakfast spot. [AM NY]
Four Seasons Restaurant: New York and Boston united when Patriots owner Robert Craft joined Jets owner Woody Johnson in the Grill Room. [Page Six/NYP]
Henry's: Unlikely friends Eliot Spitzer and David Paterson drank wine at the Upper West Side bistro in a meeting for the "Ex-Guv Club" on Thursday night. Eliot said he "wakes up happy every day now." [NYDN]
Il Buco Alimentari: Christine Quinn talked about her campaign with Bill Thompson's strategist Jonathan Prince seated nearby. Too bad the East Village restaurant doesn't have soundproof tables. [Page Six/NYP]
Marquee: Amanda Bynes stumbled through the nightclub with a male friend Saturday night. We'll just assume her face "seemed swollen" from sucking on Sour Patch kids while getting ready. [Page Six/NYP]
The Mercer: Sources say Jonah Hill was "being a ladies man" with three blondes before ditching them for Arianna Huffington's sister Agapi Stassinopoulos at this hotel bar. [Page Six/NYP]
SL: Drake was spotted at the Chelsea club with an entourage that included Jamie Foxx; it's only a matter of time before Amanda hunts him down. [Page Six/NYP]
XL: Beth Ditto worried cameramen might "photograph her tampon string" while she performed at the Hell's Kitchen club. Parker Posey was in the audience, though hopefully not the front row. [NYDN]