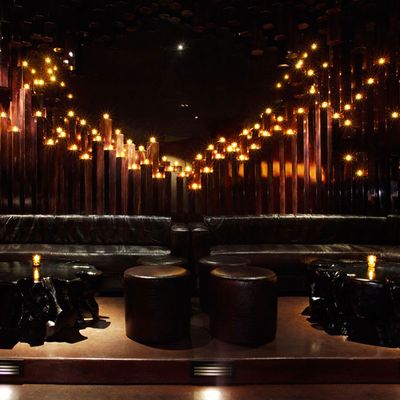 All that's missing from this picture is Nebuchadnezzars and supermodels.
Photo: Courtesy of The Double Seven
Meatpacking district cocktail lounge Double Seven has been dark since January, but rather than being down for the count, it looks a lot like the beleaguered bar will come back with a breath of new life: Despite a number of objections voiced by neighbors, Community Board 2's SLA committee last night conditionally approved a transfer for the Double Seven to Jimmy Haber, managing partner of ESquared Hospitality, the restaurant group that owns the BLT and Casa Nonna franchises.
It's been more than a year that Prince Pierre Casiraghi of Monaco was at the center of a hysterical bar brawl at the swanky Gansevoort Street space, which led to the spillage of overpriced Champagne, left the royal with a broken jaw, and eventually spurred a daisy chain of lawsuits. On the plus side, most of the parties involved got a commemorative Vanity Fair feature from the ordeal.
Despite the incident, the hot spot seemingly had enough inertia to keep going through the summer, attracting the likes of Derek Jeter and more, until it lost steam around New Year's and went "on hiatus." As far as the reboot is concerned, Haber said he will control 50 percent of the business and work closely with one man who had helped open it, nightlife impresario David Rabin. The president emeritus of the New York Nightlife Association has parted ways with Ginza Group, with whom he had partnered previously at the Double Seven. Last night, Rabin told Grub Street that he and another manager will each hold 25 percent in the operation when the Double Seven reopens.*
Locals engaged in discussions with Haber and Rabin, trying to resolve complaints and other issues regarding the Double Seven mode of operations. At last night's meeting, many remained strongly opposed to the team's bid for expanded hours: 4 a.m. closing time from Thursdays through Saturdays, and 3 a.m. for the rest of the week. Jo Hamilton, a former Community Board 2 chair, said, "I hate it, but I don't think there's much we can do about it. These are experienced operators with a history in the neighborhood and I don't think we can say no."
Haber told us he'd begun negotiations to buy out the bar's partners last month, mentioning that the committee's green light for the prospective ownership change is a formal prerequisite to sending his app on to the State Liquor Authority, the agency that gets final say over the terms and stipulations. He declined to give the price tag for purchasing Double Seven and said the acquisition is still in progress.

"I've always admired the Double Seven brand and I've always wanted to work with Dave," Haber said, noting that he'd like to keep the bar's name. "A broker brought it to me and I said to Dave, 'I'm only interested if you'll be with me.' I came to him. To me it was a package deal."
The restaurateur said the club will "hopefully" reopen within the next three weeks with a more expansive menu. "We hope to open earlier and be much more user-friendly to the neighborhood," he says.

Earlier: Double Seven's Royal Brawl Was Started in 'Self-Defense'
Earlier: Monaco Prince in Double Seven Brawl Suing Club and Patron Who Clubbed Him
*This post has been updated with new information throughout.