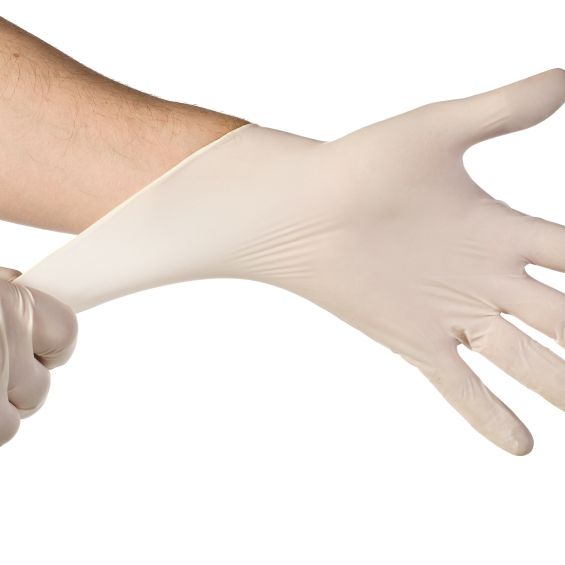 They've already got the gloves for the job.
Photo: iStockphoto
The Post's Steve Cuozzo forges a warpath today against the entire New York City Department of Health. The body's roving squad of punitive fine-happy inspectors have mounted an epidemic of meal-ruining surprise dinnertime inspections — even Mayor Bloomberg experienced salad interruptus last month at La Grenouille. But, Cuozzo argues, the DOH intrusions are an unnecessary nuisance, and the group isn't doing enough to protect the public from a "real risk." The problem is that while Cuozzo suggests inspectors spend less time ruining his dinner, it's beginning to sound like they should really be spending more time in kitchens — doing something other than writing up graded reports. Maybe they should actually be working the line.

Here's Cuozzo:
I've eaten tens of thousands of restaurant meals in the city, starting long before I became a reviewer for The Post. I can't cite a single instance of being sickened from meals cheap and expensive, at places glamorous and bare-bones.
So, first of all, kudos to you and your immune system, Mr. Cuozzo! He continues, pointing to a technical-sounding critical violation in the health code as proof that the department is more focused on minutiae and not on the bigger issues:
Reduced Oxygen Packaged Food not cooled by an approved method whereby the internal product temperature is reduced to 38 degrees within 2 hours of cooking and if necessary further cooled to a temperature of 34 degrees within 6 hours of reaching 38 degrees.
Is this really sweating the small stuff? Those fluent in DOHMH-speak will recognize this baffling section of health code as pertaining expressly to sous vide cooking, which if not undertaken properly provides an ideal opportunity for anaerobic strains of bacteria and go full bloom, perhaps, into botulism. So, for a violation of the above to be considered "critical," which it is, makes perfect sense.
Cuozzo writes that the system isn't perfect — and no one thinks it is — and seems to imply that the "malicious interference" of surprise inspections and hefty fines won't decrease the chances of things like the Hepatitis A scare that hit Alta last week from happening.
Of course inspections are necessary, but maybe they're not doing enough. Food safety is a process, not a set of exact measurements, and since we're living in city that seems to believe in the Spy vs. Spy relationship between restaurant owners and the DOH (witness the recent sensational and untrue story of Mario Batali's "health inspector alarm system"), it's increasingly clear that it's incumbent on the Health Department to do a better job explaining risk to nonprofessionals.
As New York restaurants expand in culture and stature and the city continues to attract serious culinary fire power, its kitchens continue to experiment with techniques like house-curing and dry-aging and all kinds of fermentations, which are literally excursions in controlled rot. Perhaps it's time for inspectors to start spending time in restaurant kitchens so they can actually learn more about the kinds of new techniques chefs are using. Perhaps the Health Department could send its inspectors to trail in top kitchens.
Of course, the department probably has no interest in changing the system as it stands: After letter grades went into effect in July of 2010, revenue derived from fines shot up to $42 million in 2011 (up from $17.3 million in 2006). In 2012, that number went up again: The department made $51.4 million in fines.