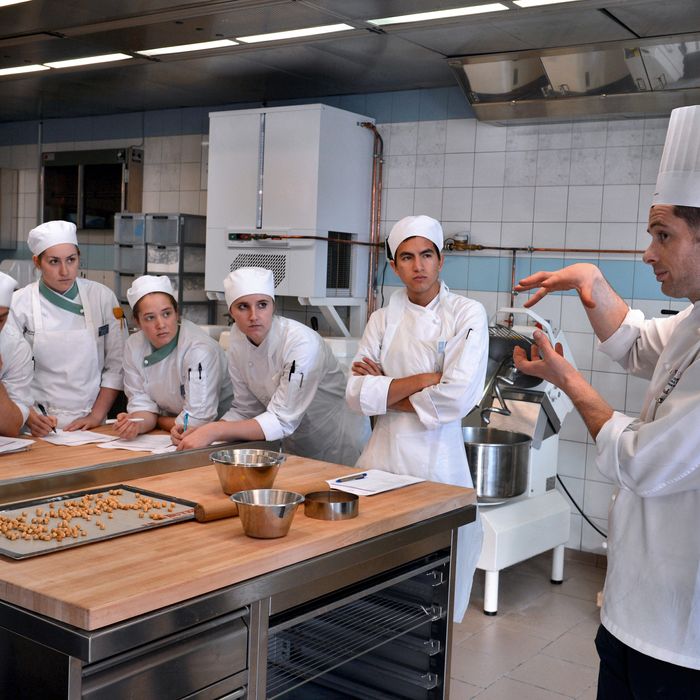 Is this really more worthwhile than staging in a restaurant for free?
Photo: PHILIPPE DESMAZES/AFP/Getty Images
Ninety students, or a little more than one fifth of its bachelors enrollees, walked out of classrooms at the Culinary Institute of America's main campus at Hyde Park yesterday to protest declining educational standards and astronomical tuition rates — organizer Zac Hoffman, for example, wore a sticker bearing the ominous amount of $87,500, an obvious reference to the school's costs. While some protestors accused the school of simultaneously loosening entry requirements like previous experience and failing to enforce standards such as a dress code, it's the very high cost of a cooking school diploma — which many chefs have effectively branded as a useless artifact, anyhow, in 2013 — that appears to be the root of conflict.
The rapid expansion of food media and food politics means that specialized food studies programs, degrees, and entirely new schools have joined more traditional hospitality programs. There were 579,102 restaurants in the U.S. in 2010, a figure that increased to 616,008 in 2012, but those figures belie the repurposed, almost postmodern role of culinary schools, where a good number of graduating students don't want to open restaurants, but instead seek the credentials to establish themselves as television stars, diet gurus, food writers, and Alton Brown's heir apparent.
The real reason why there have been lawsuits over culinary school programs isn't expressly because of high tuition, but rather because curriculum shifts have devalued its cost on a massive scale.
Protestors say the cultural landscape of cooking programs has shifted radically, even within the last four to five years, which was the last time students at the Culinary Institute of America's protested an out-of-touch administration. In 2008, students accused the administration of hewing too closely to the interests of corporations and food manufacturers, at the expense of things like basic knife skills. Students took to Facebook to complain about having to cook things like frozen waffle fries. (The case could be made that there's value in learning how to drop the industrial food service potatoes into the deep fat fryer before one ever attempts a gaufrette.)
The romance of restaurant cooking (blame Ratatouille and Top Chef if you must) is all about the appearance of seeking perfection in elegant, well-measured terms. It doesn't help that big league chefs are obsessed with flashy Breitlings, and that Thomas Keller admires the precision of BMWs and even clips chanterelle mushooms with his gleaming Laguiole knife.
All of those marketing images, though, are of course about as far as you can get from portraying what life is really like in a professional restaurant, a world that's flawed and messy and, by design, will seem like it's trying to kill a rookie that can't hack it.
Furthermore, the number of marquee-name chefs who argue culinary school is a prerequisite for success is few. Adam Perry Lang, one of the few, told Grub Street a few years back, "Anybody who argues that [the training] is dated or not necessary is completely ignorant while denying the very shoulders they sit on, directly or indirectly … Anyone who is denying that point should chop some more onions."
The point that chefs seem to be making is that culinary school students are no longer about to chop onions. Take Grant Achatz's tale of being able to crack open two eggs into a pan with one hand and flip them with the other by the time he got to the CIA, much to the amazement of his peers. Look at Tom Colicchio, who has his own gripes, or consider Michael White's reservations. Even though David Chang has said his culinary school experience was awesome for him, he too readily admits how much he's been burned by useless culinary school graduates who come to the kitchen door with brand-new knife kits and a lack of calluses.
All of the arguments center around the idea that culinary schools don't necessarily prepare students for life in a kitchen any better than a year spent as a stagiaire, the culinary equivalent of an unpaid internship, which wouldn't cost a young cook nearly $100,000.
Pastry chef Shuna Lydon has gone on the record as saying that she despises ex-student "cooks waiting for a formal invitation to learn, to grow, to challenge themselves."
"Everybody thinks they can go to culinary school and come out in a year and be a chef," North End Grill chef Floyd Cardoz told Grub Street in 2009. "They don't realize you need to learn to cook before you can be a chef."
The underlying debate is — as always — about the value of culinary school, but also, as Lydon implies, what the value of that education really is as soon as a cook gets behind the line. For the moment, the high cost of going to class far outweighs the benefits of failing miserably in the kitchen, which remains one of the most undervalued experiences a chef can have.
"You have to burn yourself," Dave Chang has said. "Messing things up makes you a better cook." It's just that some burns end up costing more than others.
Earlier: Students Stage Walkout at the Culinary Institute of America