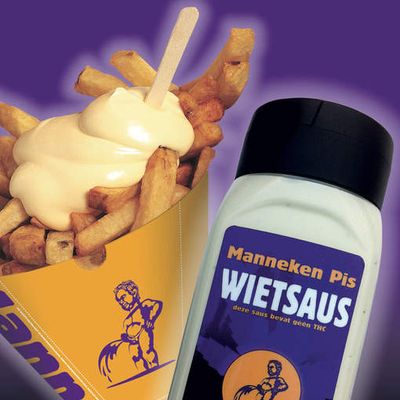 Squirt, squirt, pass.
Photo: Courtesy of Manneken Pis
It's high time (cough) for this long, dull trip of bacon-flavored mania the combined industrial forces of the novelty food world have foisted upon us on during the last few years. How about pot-flavored everything? French fry chain Manneken Pis thinks the time is nigh — they were voted "beste friet van Nederland 2013," mind you — so tomorrow they will introduce Wietsaus, a mayonnaise-based French fry dipping sauce infused, apparently, with the convincingly strong taste of weed.
Albert van Beek, the French fry chainlet's owner, says he was inspired by the pervasive smell of weed smoke on the street (obviously) and was in turn blown away to find out that skunky dipping sauce was not yet a thing. He got right to work. While there's no actual THC in the recipe, Van Beek says the finished product brims with the "unmistakable taste of weed," adding, "we are the first with weed sauce on the market and we are proud!" The sauce goes on sale tomorrow at the shop's four locations, and though we've not tried it, we're told it's creamy and dense, with mineral kush notes and a nuanced dime bag finish.
Manneken pis verse vlaamse friet [Facebook]
Hij is hier: je nieuwe favo saus Groen [WTF.nl]