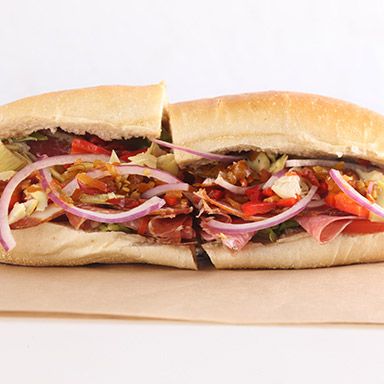 The Italian, with the works, of course. Plus, Tastykakes.
Photo: Melissa Hom
Let's get this out of the way up front: Dave Bagan exhausted his options trying to get Philadelphia-baked rolls for his new hoagie shop. It's that soft, if not a little chewy Italian bread that cinches the authenticity for sandwich pundits nine times out of ten, after all. But when Brotherly Love bakers could only offer to ship parbaked and frozen product, Bagan took a fresh hoagie roll over to Parisi Bakery in Little Italy. After some R&D;, he's happy to report he's got the model that will serve as the foundation of his five-sandwich menu at Dave's Hoagies, which opens Monday on Cedar Street. "This bread is as good," says Bagan, "if not better than the hoagie bread I had growing up."
The former banker was raised in South Jersey near Philadelphia, ate a lot of hoagies with his dad when he was a kid, and says he always wanted to open a restaurant. Below, you'll notice the menu at Dave's Hoagies, which is a tiny 700 square feet and only has room for four counter stools, includes housemade hummus. Otherwise, says Bagan, the shop aims to honor the hyper-regional sandwich. Here's a closer look at the Italian: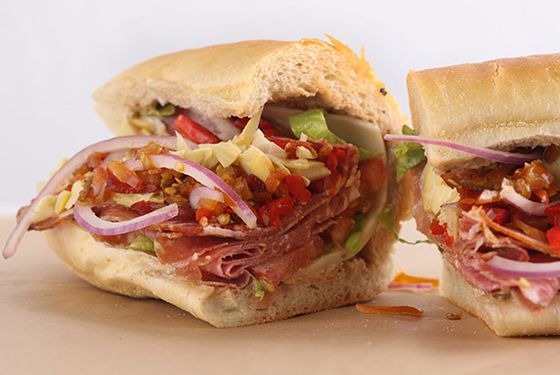 It's got the "works."Photo: Melissa Hom

It's made of sharp provolone, Parma prosciutto, soppressata, coppa, and more. The "works" includes shredded romaine, raw onion, roasted red pepper, artichoke hearts, and pickled hot cherry peppers.
Bagan says he tested 30 varieties of hoagie sauce before settling on what will be the shop's proprietary version. It seems to pain him to say it, but he's made one concession in that department as well: Rather than using squeeze bottles to garnish sandwiches with hoagie sauce, Dave's sandwich-makers will dress the hoagie roll first. "The last thing I want is for a trader to have an oil spot on his Hermès tie," he says.
The shop will be open six days, lunch only. Plus, for Philadelphia-appropriate dessert: Tastykakes, obviously. Bagan's starting lineup is Butterscotch Krimpets, Peanut Butter Kandy Kakes, and Cream-Filled Buttercream Cupcakes. "I'll try to bring in some more if the people want more," he says.
Menu [PDF]
Dave's Hoagies, 26 Cedar St., nr. William St.; 212-248-1000