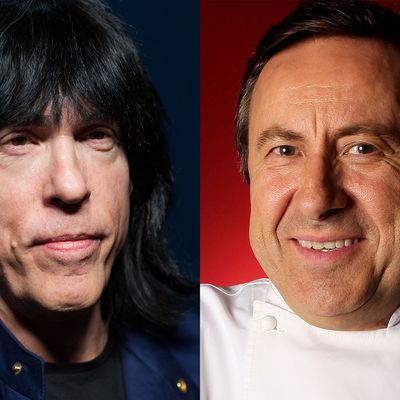 Only one of these guys wants to be sedated. Give us your best guess.
Photo: Valerie Macon; Scott Halleran/Getty Images
Because of its name, lots of folks (mistakenly) believe that Daniel Boulud's high-end Bowery meat palace, DBGB Kitchen & Bar, has been culture-squatting and grave-dancing atop the remains of the venerated CBGB, which closed in 2006 a little bit up the block. Now it seems the two acronymized worlds will collide on April 30 when Marky, otherwise known as the oldest living Ramone, will not only take over the dining-room playlist but also serve his famous "Drum-Punk" Brooklyn tomato sauce with smoked mozzarella ravioli to guests seated at the restaurant's communal table. Boulud himself will follow the opening act with a roasted suckling pig.

Dinner also includes charcuterie, salad, and the most punk dessert of all time, baked Alaska; glue sniffing breaks on Extra Place are not on offer here. Sadly, this is not an all-ages show, but each $75 ticket (excluding tax and gratuity) does include "bottomless pours of New York State beers and wines," with selections from the Bronx Brewery, Ommegang, Channing Daughters, and Thirsty Owl. More information is available here.
Whole Hog Pigout with Special Guest Marky Ramone [EventBrite]