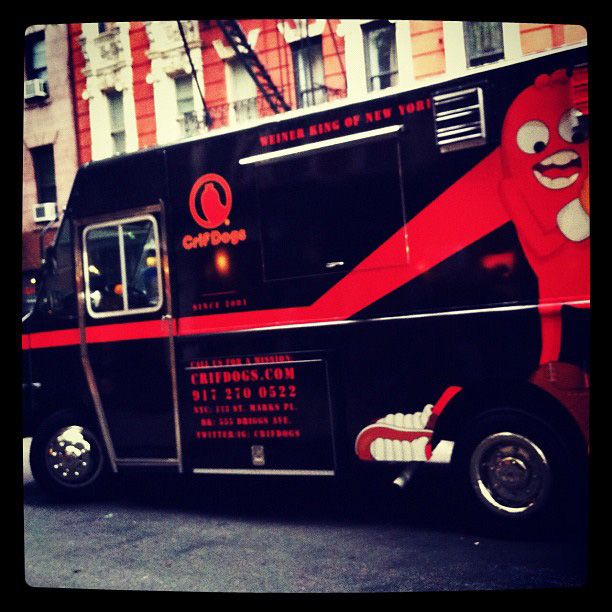 The Crifmobile, like the Batmobile but with hot dogs instead of Batman.
Photo: Courtesy Crif Dogs/Twitter
Next week's jam-packed Community Board 2 SLA Licensing Committee agenda includes an appearance from Crif Dogs partner Brian Shehairo, who is seeking full liquor at the "empty lot" at Houston and Elizabeth Streets. Considering the short supply of real estate, that could only really mean one location: the urban salvage yard, vast curiosity cabinet, and irreplaceable artifact shop Billy's Antiques, which closed last March after existing in one form or another on the site for 26 years.
Billy's closed to make way for a new two-story from developer Tony Goldman. But after Goldman, who opened downtown restaurants in the seventies and eighties and was instrumental in transforming Soho from a deserted area into the brand it is now, died last fall, construction was apparently put on hold. "I have heard of no plans of building since Tony passed, so we will see," Billy Leory told the Local East Village. "Right now what remains of Billy's is the skeletal structure, a memory of the Old Bowery."
If Crif Dogs is successful (the Community Board agenda mentions it'd bring its truck onto the lot and add "portable bathrooms"), it's at least not that much of a stretch to see the gonzo spirit of the East Village original and its Williamsburg outpost as part of Billy's continuum of Weird. Crif Dogs introduced its devil-red Crifmobile last fall and shortly thereafter, the hot dog shop's mother ship became an ad hoc beacon of fast food and CNN in the aftermath of Hurricane Sandy.
Schedule/Agenda [CB2 Manhattan]
Earlier: Crif Dogs Now Has a Food Truck