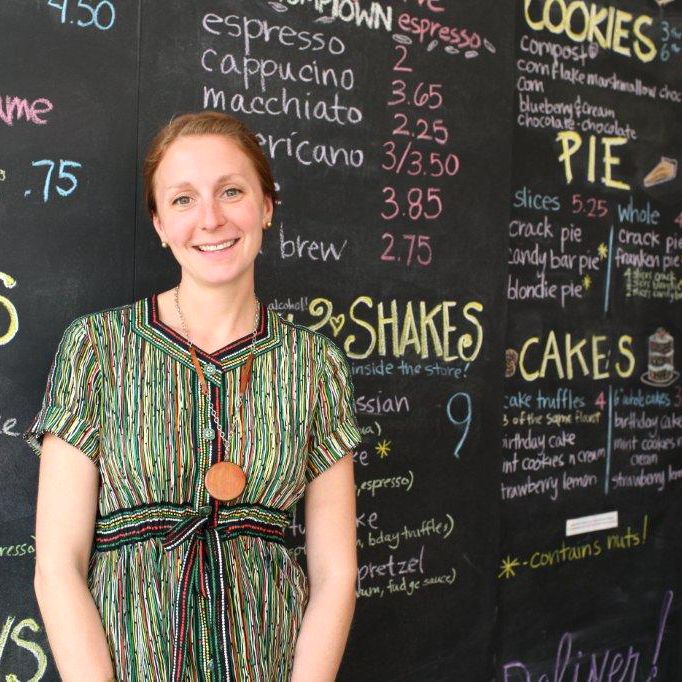 Congratulations, Tosi.
Photo: Melissa Hom
Good news for those who like raspberry and rye soft-serve: Distinguished wd~50 alumnus and iconoclastic pretzel milk innovator Christina Tosi is set to publish a second cookbook. Publishers Marketplace (subscription required) reports that the Momofuku Milk Bar chef, owner, and dog lover has sold Milk Bar Life, which will venture outside of the bakery. Straight ahead, the full description.
Chef-owner of Momofuku Milk Bar and author of the book by the same name, Christina Tosi's MILK BAR LIFE, with 100 recipes for her favorite homemade sweets as well as for the savory dishes she cooks at work and at home, again to Rica Allannic at Clarkson Potter, by Kim Witherspoon at Inkwell Management (World).
We reached out to Ms. Tosi, who not only told us the book will have chapters called "Freakin' Weekend" and "A Cookie a Day." She also gave another another taste of its theme:
Life is a ridiculous celebration every day. You can't work in a bakery that sells crack pie and cereal milk without understanding that. Milk bar is what it is because of the culture, community and people that are a part of it. It keeps going because of the zest, humor and love for food we embrace every day. Milk Bar Life will be our stories, theories, inside jokes and one-pot wonders that make us who we.
So there you go. The book probably won't be out for a year or so, but we just ordered a new stand mixer to get ready for it anyhow.
Deals [Publishers Marketplace]
Earlier: A Decade of Influence: The wd~50 Family Tree
Earlier: Momofuku's Christina Tosi Loves Push Pops, Scarfs Cereal With Pretzel Milk