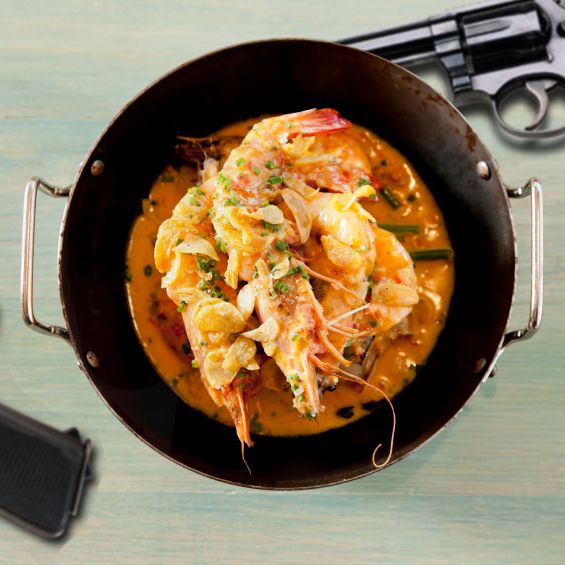 "I'll give you my leftover fried shrimp salad when you pry it from my cold, dead hands."
Leesburg, Virginia, restaurant the Cajun Experience has introduced an exciting new promotion called "Open Carry Wednesday," where all customers who brandish holstered and licensed firearms are entitled to a 10 percent discount off their entire meal. "I've seen what the restricting of freedom is all about," owner Bryan Crosswhite tells Leesburg Today. "It's our legal right to carry. I want it to be [my customers'] right to carry in our restaurant." Crosswhite's promotion has been up and running for about four weeks now, and despite some concerns that a restaurant that serves alcohol might not mix so great with loaded firearms, things seem to be going smoothly. That in mind, we thought of some other special discounts for the Cajun Experience.
1. Small macaroni and cheese side for any customer who brings in two items of nonperishable food.
2. One free cup of red beans and sausage for anyone who says they are unable to see God in this Pepperidge Farm goldfish.
3. Fried shrimp basket (and two sides) for children under 12 carrying concealed crossbows.
4. Po' Boy of choice for anyone who hates cafeteria bullies.
5. One free crawfish pie for anyone who reports crimes committed against muenster cheese. (Phone tips accepted.)
6. Twenty percent off the check for any customer who isn't carrying a gun, concealed or otherwise, Wednesday or not.
7. A basket of chocolate-filled beignets to anyone who does not bring their own box of Shoprite brand rotini to the restaurant.
8. Free boudin balls for anyone with a nice smile.
9. Free blackened chicken salad and an order of the "Yum Yum Special" for Magneto, if he shows up and sucks away all the guns (without hurting anyone).
10. Two-for-one BBQ Shrimp Ma Cherie on every "Glock-Free Thursday."
Guns & Gumbo: Leesburg Restaurant Encourages Customers To Open Carry [Leesburg Today]