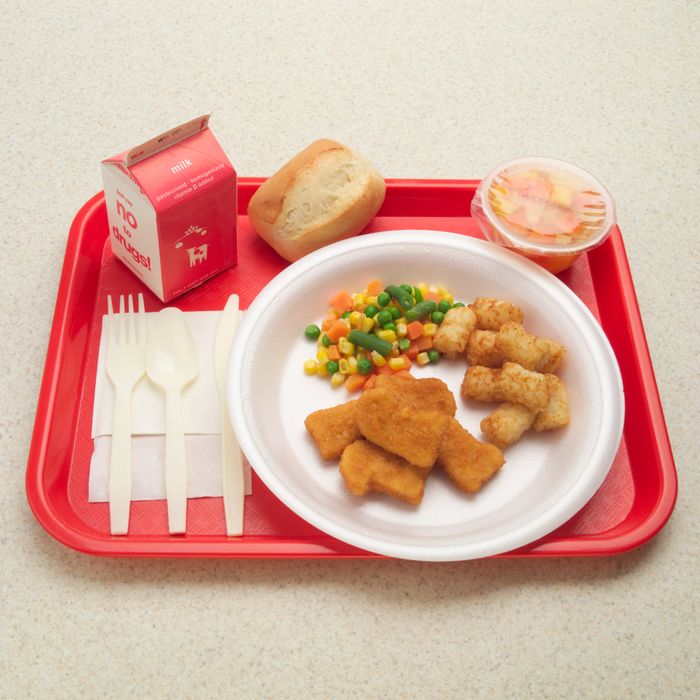 Apparently grown-ups can also be bullies in the cafeteria.
Photo: Tom Grill/Corbis
File under "way not cool": Approximately 25 students at the Coelho Middle School in Attleboro, Massachusetts, were flat-out denied food or were forced to discard the contents of their cafeteria trays on Tuesday afternoon, the Sun Chronicle reports. A worker from the school's food-service provider Whitson's allegedly singled out kids who could not pay for their meals, some whose prepaid accounts contained insufficient funds, and others who owed money. School Superintendent Pia Durkin explained to the paper that kids without money are supposed to receive a carton of milk and a cheese sandwich until the issue can be addressed, but that didn't happen in this instance, and parents report that some students cried after they were turned away from the lunch line.
"This is absolutely outrageous," the paper quotes a mother of a fifth-grade boy, who offered to share his lunch with the girl behind him who'd broken down in tears. The Sun Chronicle reports that some confusion about Tuesday's events remains. Superintendent Durkin told the paper that Coelho's principal and other officials did not learn about the incident until "late Tuesday afternoon"; children of one parent said the announcement that students who couldn't pay would not receive a meal was made by the school's assistant principal during lunchtime. Clearly this is a case for Encyclopedia Brown.
The cost and management of prepaid school lunch programs continues to be an issue in districts throughout the country. Last year, a Missouri lunch lady lost her job for feeding a kid who didn't have milk money. She was rehired the next week after an outpouring of support.
In Attleboro, Durkin says the school's cafeteria workers have been advised not to turn any more students away from the hot lunch line — regardless of their ability to pay. The offensive cafeteria worker has been placed on "administrative leave" and in the meantime, Durkin has pledged to look into the students' outstanding credit balances, which amount to no more than $1,800 for the entire district. After all, there may be no such thing as a free lunch, but that's no reason for anyone to be such a jerk about it.
Lunch denied to some Attleboro students [Sun Chronicle]
Earlier: Lunch Lady Who Fed Hungry Kid Gets Her Job Back