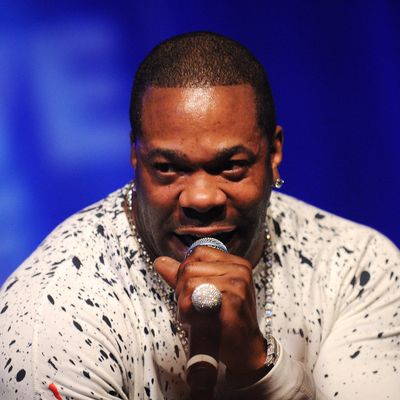 No word if his burger did in fact get soggy.
Photo: Bryan Bedder/Getty Images
Dungeon dragons be damned: Cultist reports that Busta Rhymes rolled up to South Beach's popular Cheeseburger Baby with his entourage today around 5:45 a.m., and upon encountering a very long line, the rapper "demanded to cut the line to get his food faster." Busta Bust allegedly lashed out after they shut him down, calling one employee "fag" and threatening others. Things reportedly only got more intense after the rapper went to his car to sulk, and to wait for his order.
Cheeseburger Baby owner Stephanie Vitori says the rapper got really angry out after he checked his order and realized that the salt, pepper, mayo, and ketchup were on the side. Vitori says that when she told Busta that's how all of the burgers come at the restaurant, he told her to "shut the fuck up." Vitori says she replied by telling him to eat his burger before it got soggy.
She threatened to call the cops, and Busta fled the scene, but the rapper allegedly called back moments later to threaten some more people and inform the restaurant that his cheeseburger was cheeseless. Such complaints are taken very seriously at Cheeseburger Baby. He apparently capped off his rant with a promise to return and retaliate against the hamburger shop's employees who had wronged him. There's no details about how these threats were actually delivered, but we imagine Busta Rhymes delivered them all really fast and staccato, but with excellent diction.
Busta Rhymes' Homophobic Freakout: Rapper Allegedly Calls Cheeseburger Baby Employees "Fag" and "Bitch" [Cultist/Miami New Times]